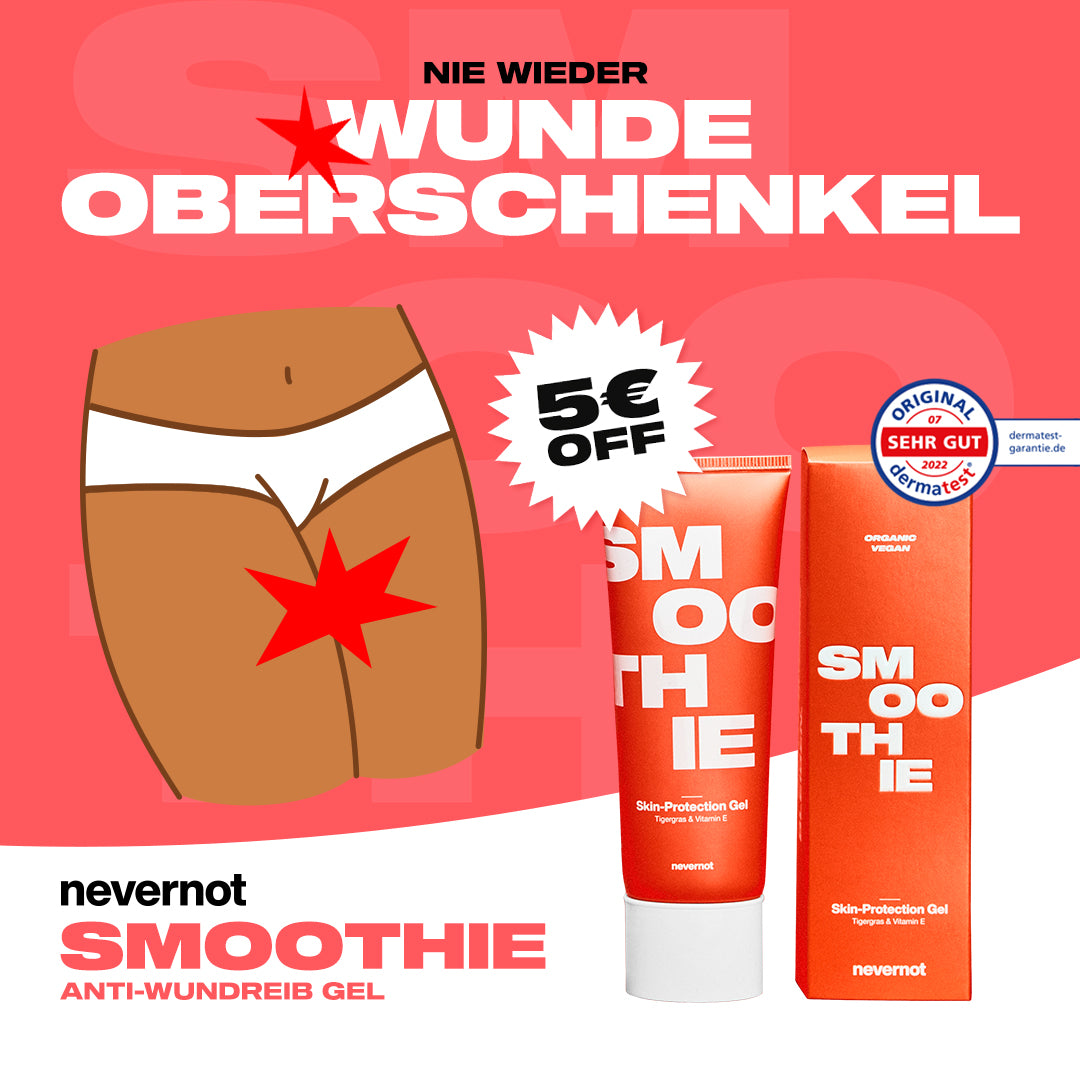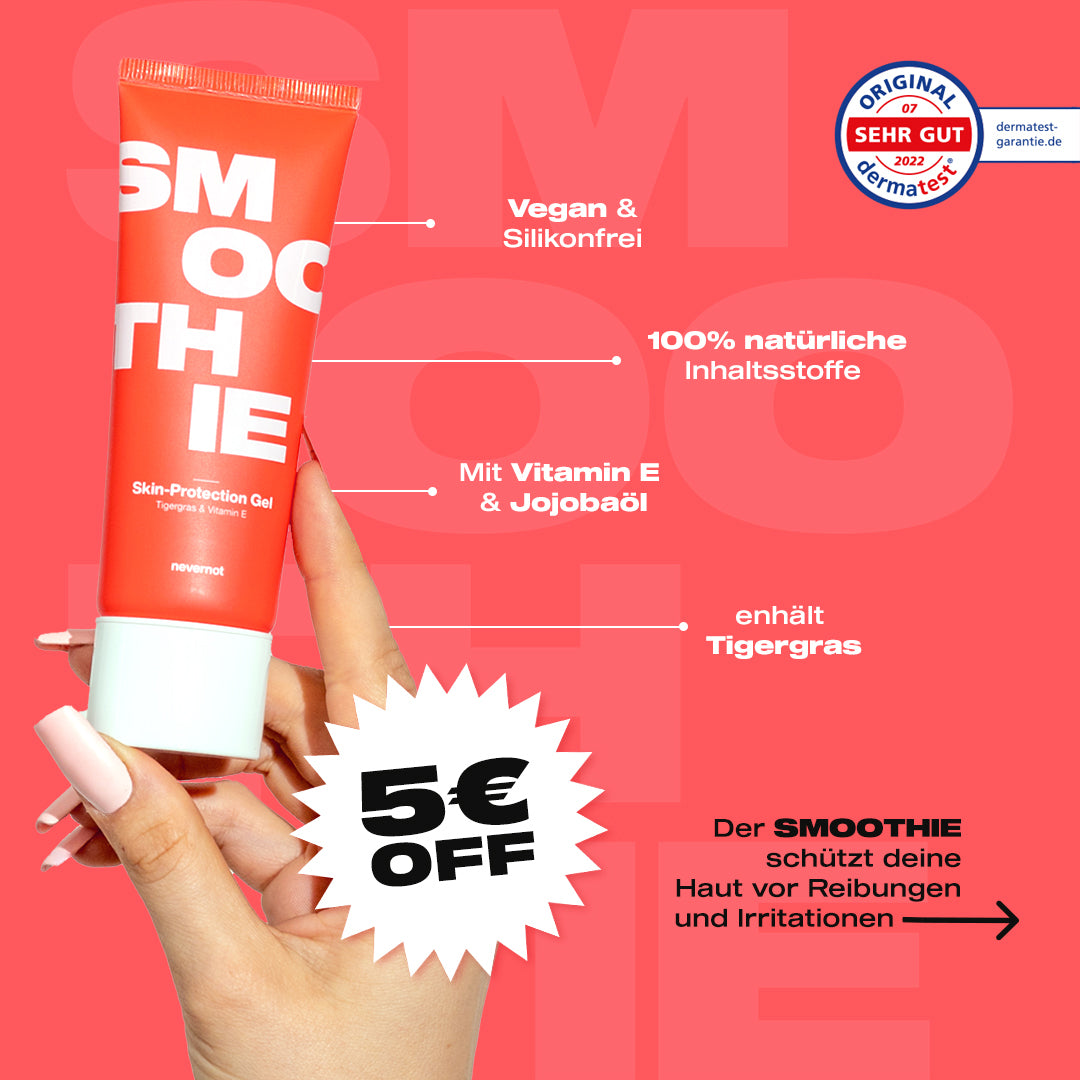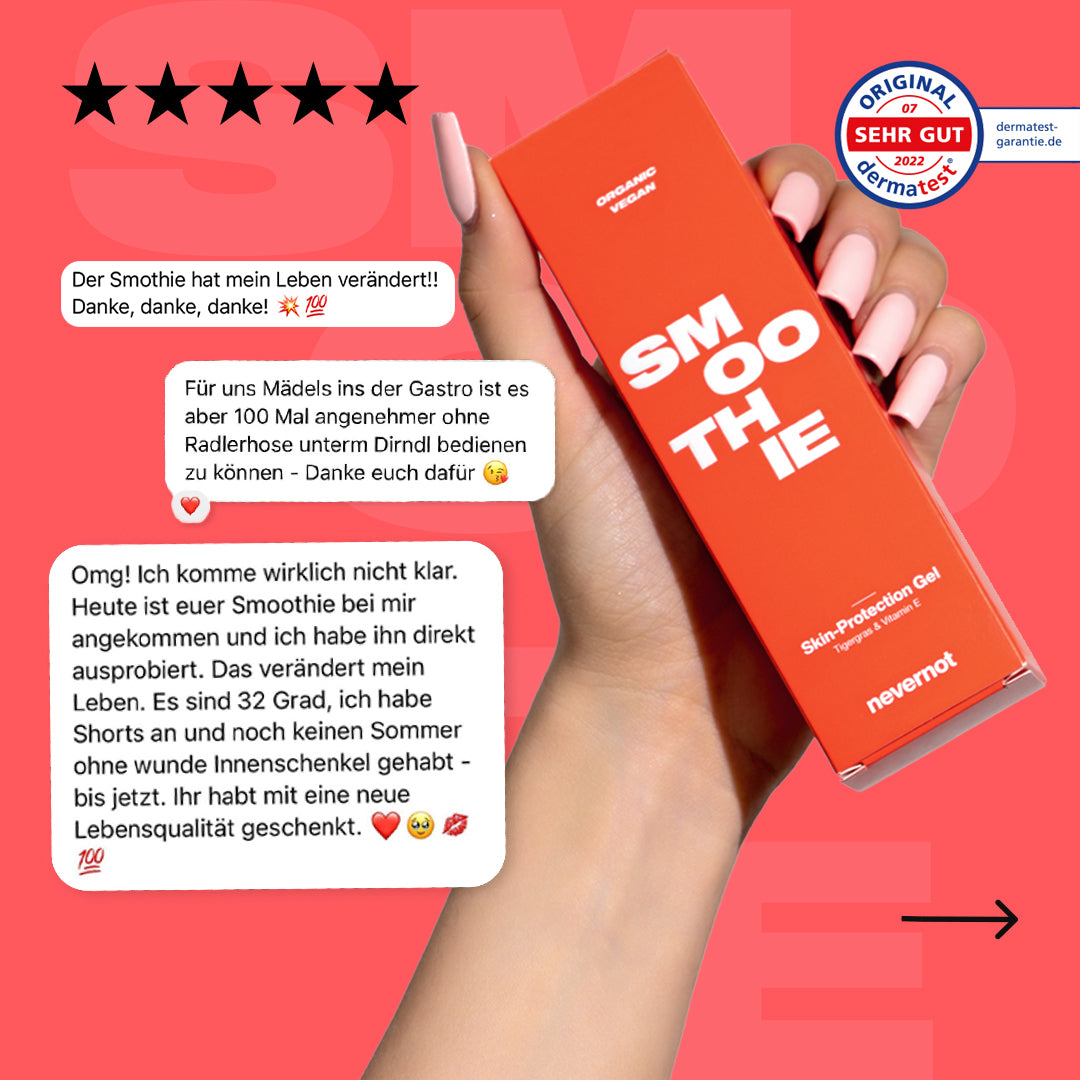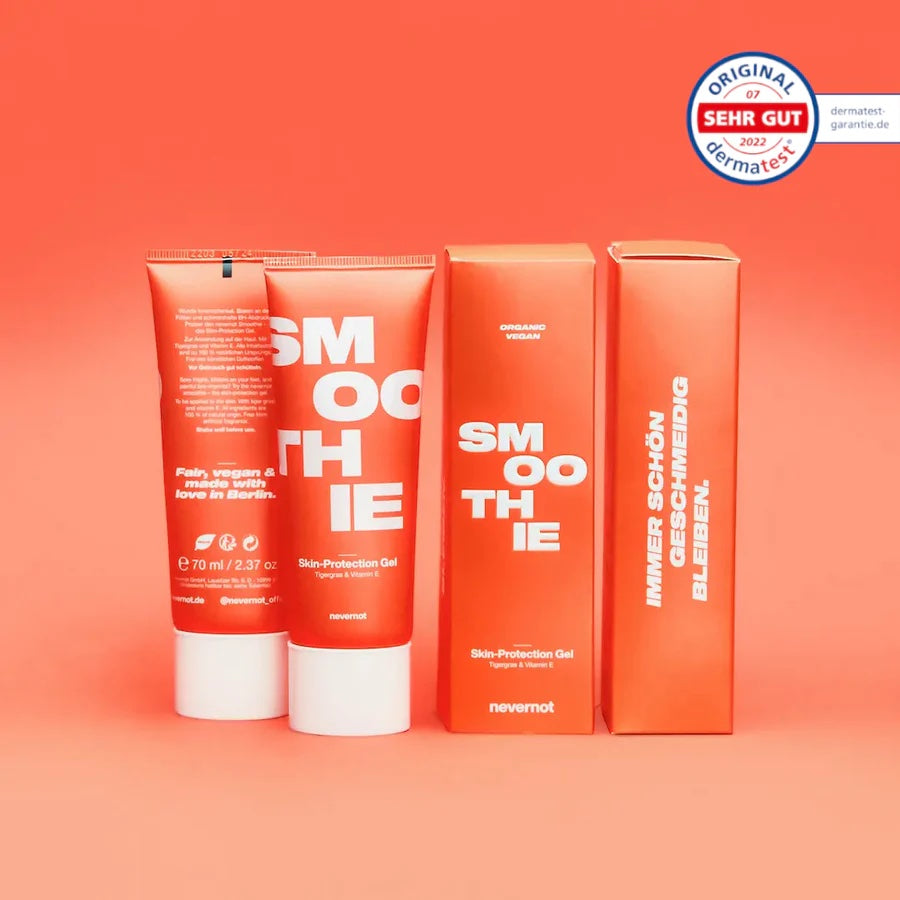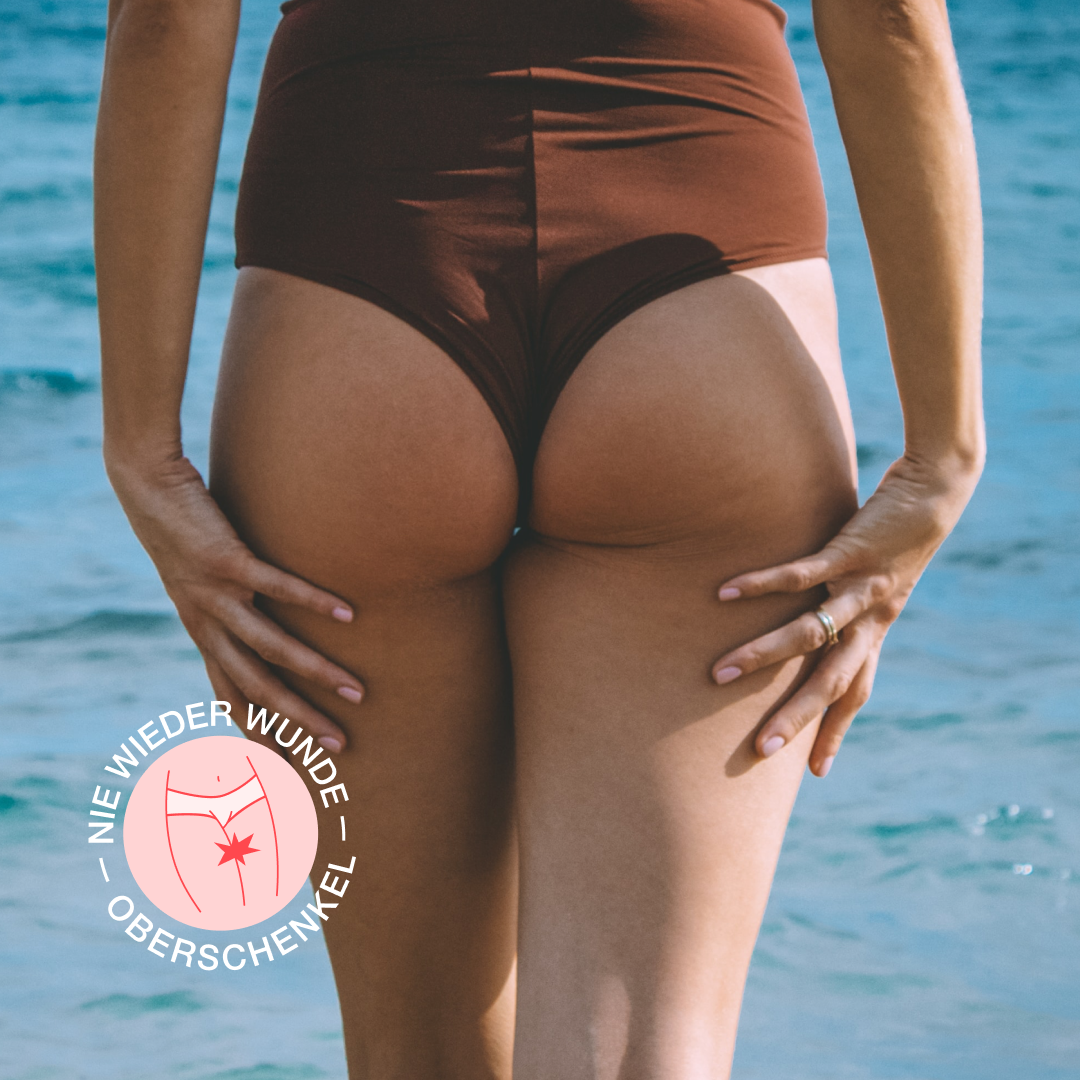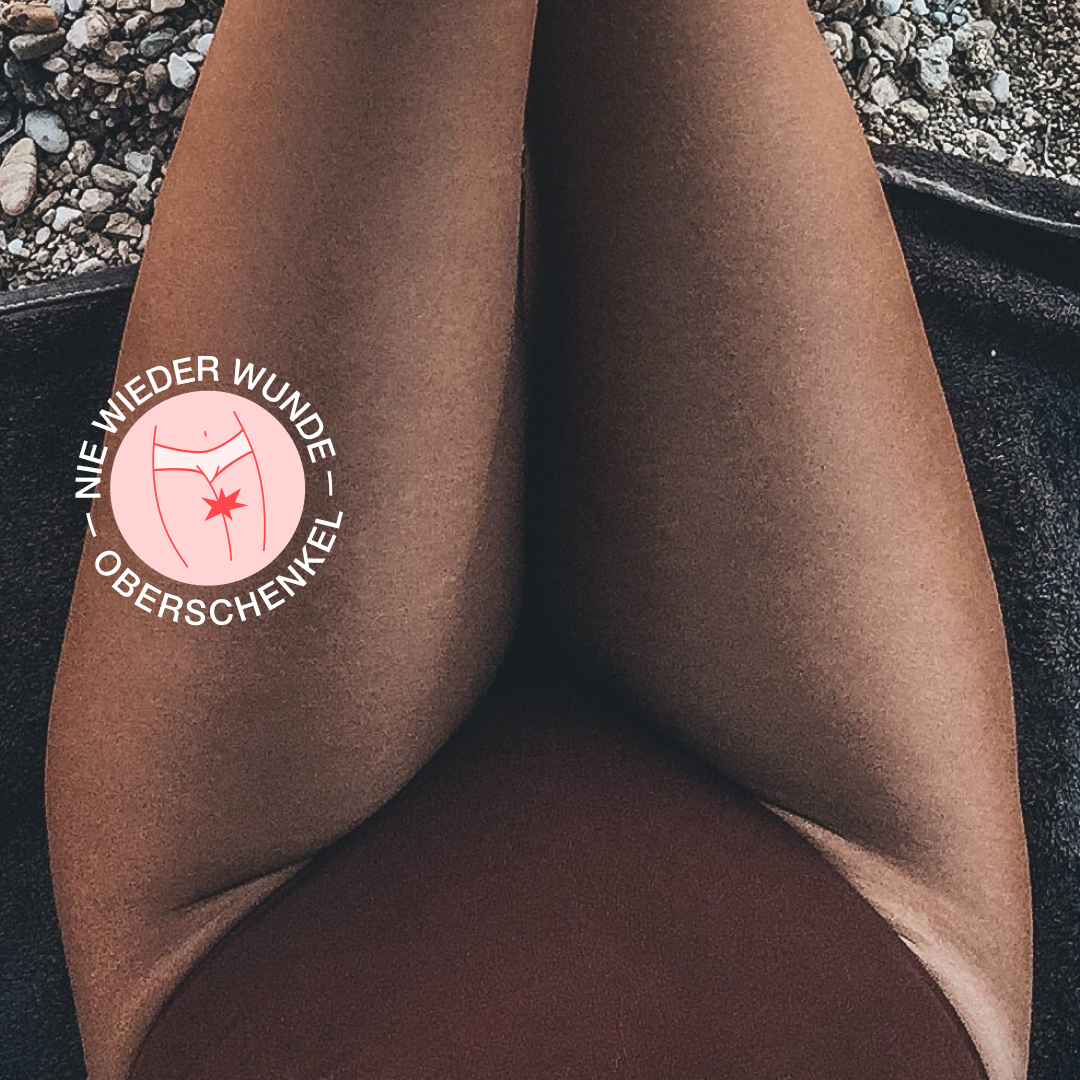 €19,90
€24,90
Unit price
€28,43
per
100 ml
incl. VAT plus shipping costs
Do you know this? Sore inner thighs, blisters on your feet and painful bra marks? Especially in the summer, most of us suffer from it. This has finally come to an end. Skin-Protection Gel forms a long-lasting, invisible protective film that protects you and your skin from friction and irritation.
🌿 100% natural ingredients, without silicones.
🐅 With tiger grass: antibacterial, soothing and regenerative
🍋 With vitamin E: for increased resistance of the skin, counteracts inflammation🪀 With jojoba oil: nourishing, protecting and smoothing
Shake well, apply thinly, get going: with your sports program, your summer walk or the sandal purchase. No worries about pulling and rubbing.
· Pull off cap
· Turn applicator
· Pull applicator slightly upwards
· Apply product
For application on the skin. Prevents chafing. Vitamins included.
· With tiger grass: Stimulates collagen formation, for better regeneration and wound healing of the skin. Counteracts scarring and stimulates cell growth.
· With jojoba oil: Anti-inflammatory, nourishing and relaxing. Antibacterial and anti-allergenic. Super for all skin types.
· With vitamin E: For more moisture and increased resistance of the skin. Anti-inflammatory, nourishing and smoothing.

OCTYLDODECYL OLEATE, OCTYLDODECYL STEAROYL STEARATE, BRASSICA CAMPESTRIS/ALEURITES FORDII OIL COPOLYMER, SIMMONDSIA CHINENSIS SEED OIL*, HELIANTHUS ANNUUS SEED OIL*, POLYHYDROXYSTEARIC ACID, OCTYLDODECANOL, TRIHYDROXYSTEARIN, HELIANTHUS ANNUUS HYBRID OIL*, LINOLEIC ACID, TOCOPHEROL, SALVIA TRILOBA LEAF EXTRACT*, CENTELLA ASIATICA EXTRACT*, PALMITIC ACID, STEARIC ACID, LINOLENIC ACID

*organic farming
Nur das Beste für dich
Natur statt Silikone
Unlike comparable products on the market, our anti-chafing gel doesn't contain any silicones without compromising its effectiveness. Silicones are harmful to you and our environment.
They promise effects, which are only superficial and short-term, purely cosmetic. They have no nurturing effect. In the long run, they even harm your body.
The anti-chafing gel consists of ingredients that are 100% of natural origin. No silicone, same effect!
Customer Voices
...with the anti chafing gel
Ich hab im Sommer immer Probleme mit aufgeriebenen Oberschenkeln – dank des Anti-Wundreib-Gels von nevernot nicht mehr!
So genial: Nie wieder Probleme mit Sport-BHs und Sandalen. Ich lieb's!
Mit Periodensex zu mehr Orgasmen