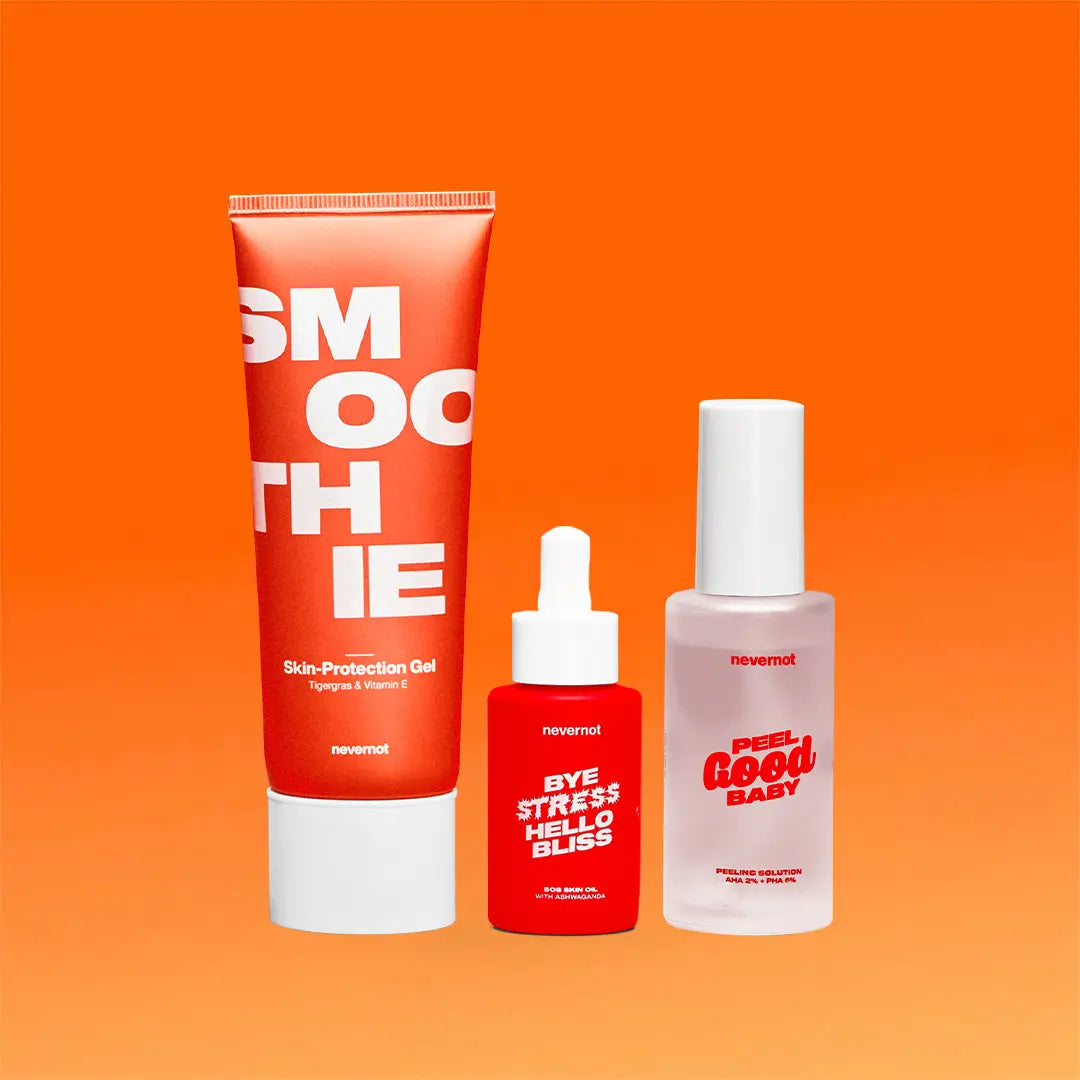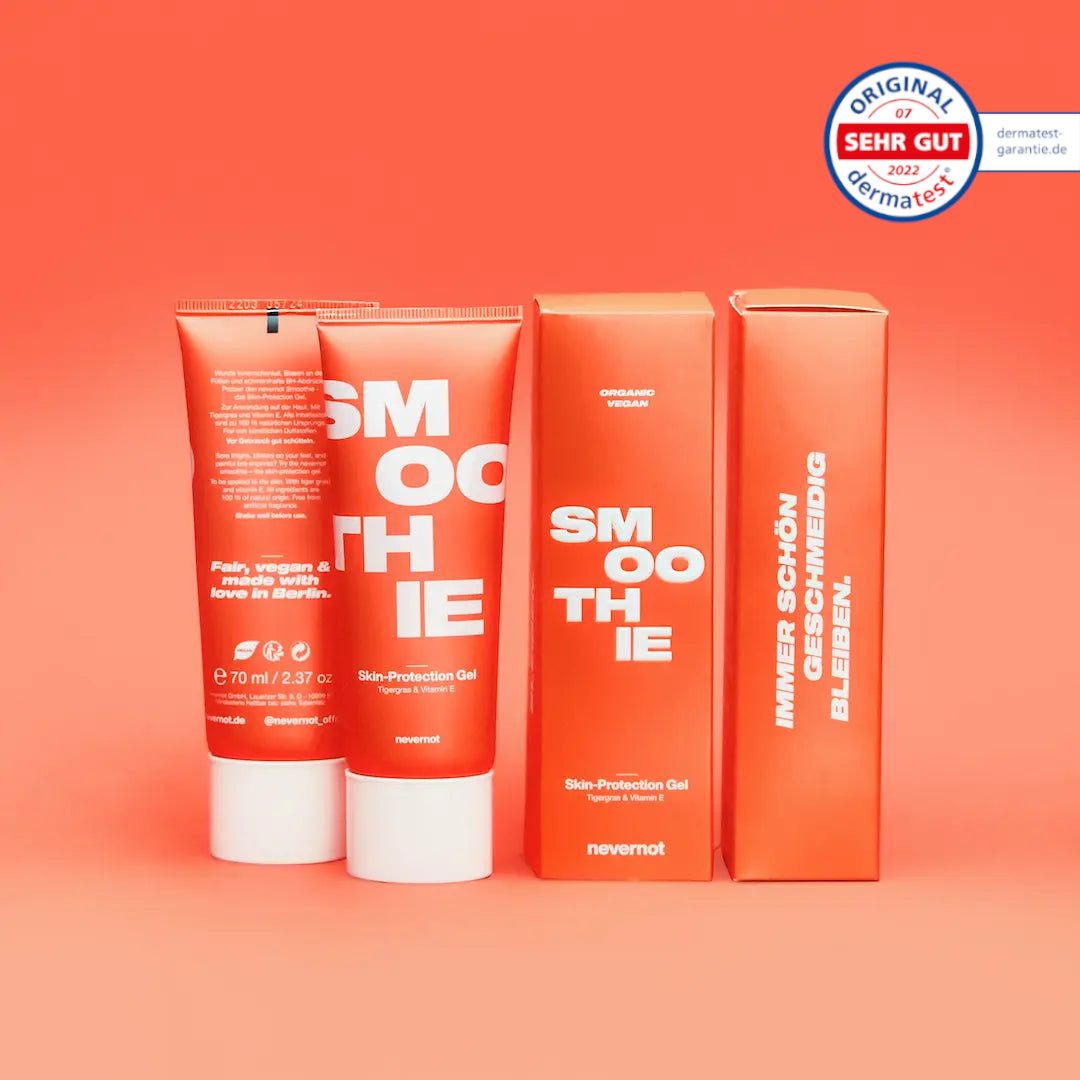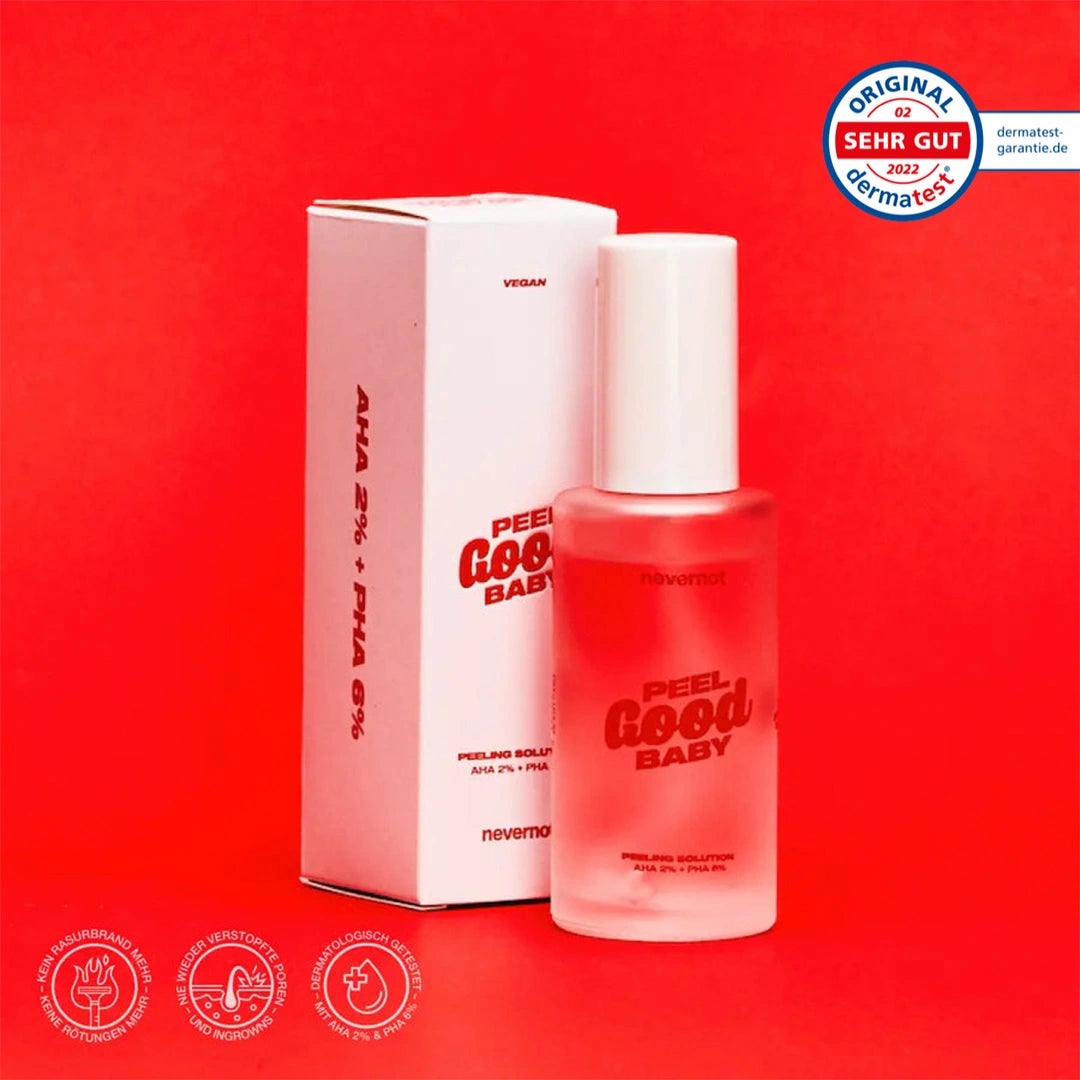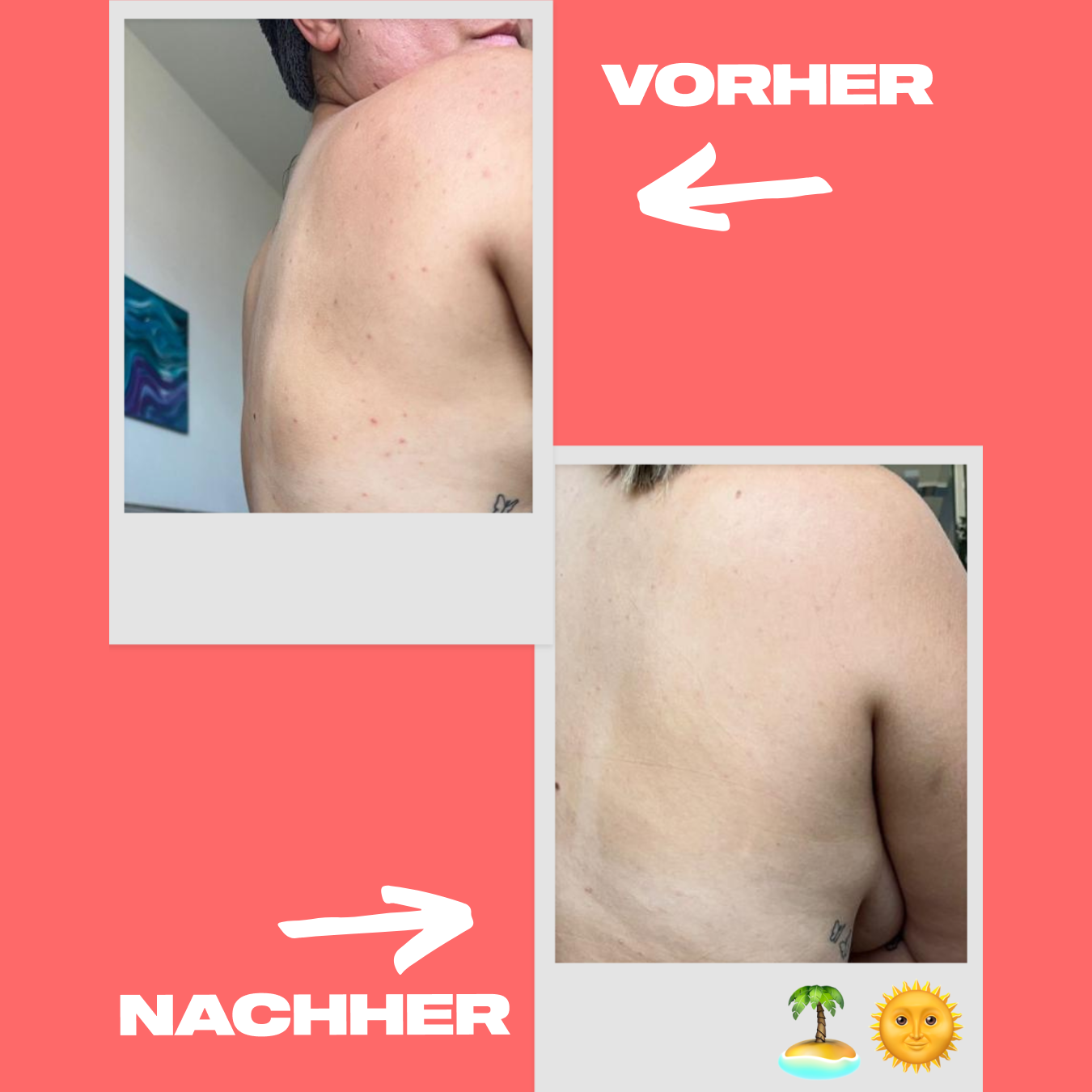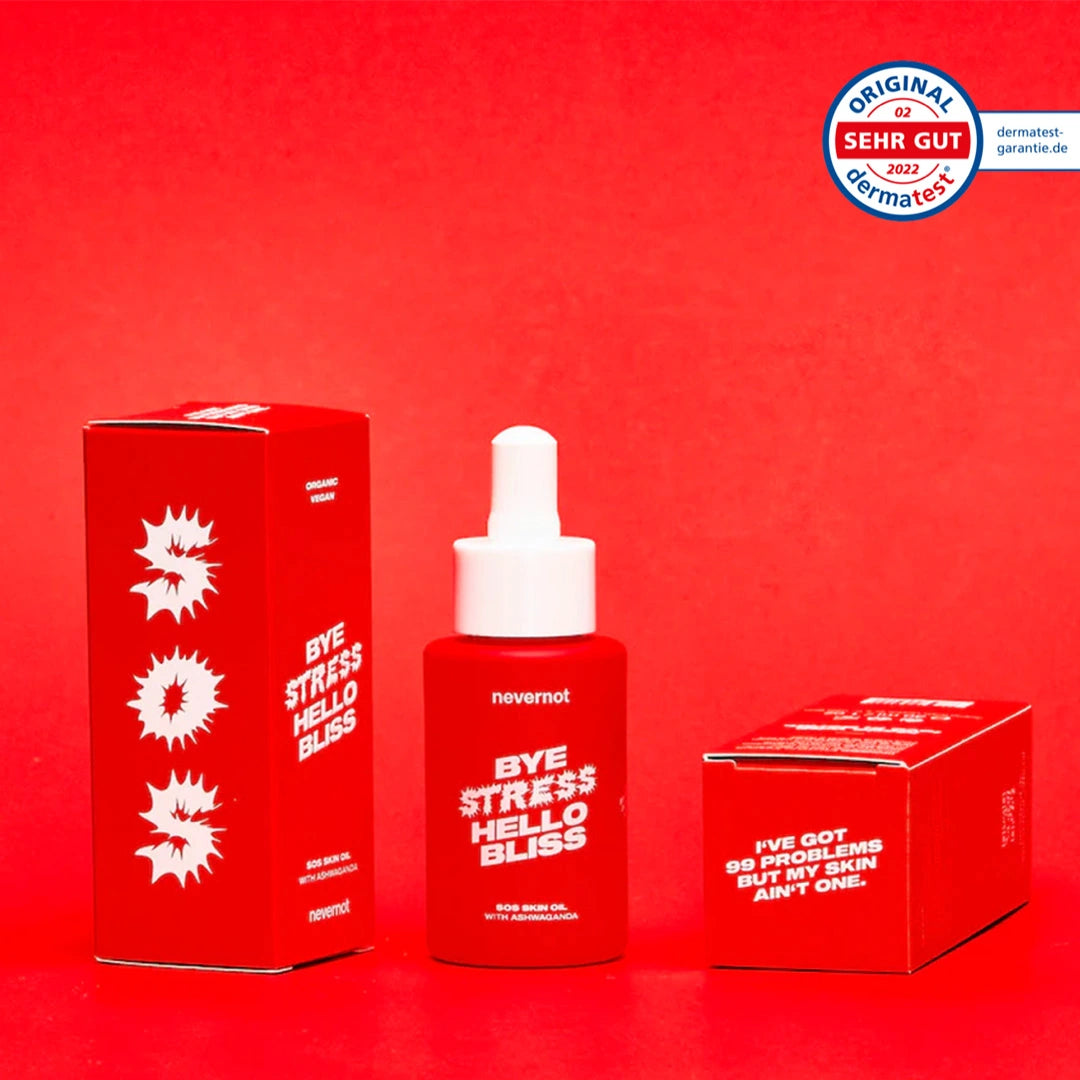 incl. VAT plus shipping costs
Save 24% on your absolute skincare favorites in a bundle!

🔥 SOS Skin Care Oil to fight razor burn and irritated, dry skin.
💦 Smoothie to combat friction and sore thighs.
✨ Peeling Solution against impurities and strawberry skin all over the body.
🌱 100% of natural origin

Smoothie – The Anti-Chafing Gel:
🧡 100% natural ingredients, without silicones
🐅 With Tiger Grass: antibacterial, soothing, and regenerative
🍋 With Vitamin E: for increased skin resilience,
🪀 With Jojoba Oil: nourishing, protective, and smoothing

nevernot Peeling Solution:
❤️ For the entire body
🧪 With AHA 2% + PHA 6% particularly gentle
💫 Against pimples, strawberry skin, and ingrown hairs
💕 Clears pores and hair follicles of bacteria and skin cells

SOS Skin Care Oil:
💙 For the entire body – including the intimate area
💖 Ideal for irritated, stressed, and dry skin
🛁 After-shave after shaving
💧 Suitable for especially sensitive skin
We all agree:
Take care of yourself and your body with our No Pain Bundle!

Nevertheless, annoying things like strawberry skin on arms and legs, ingrown hairs in the bikini line, razor burn if you shave, and chafed thighs don't have to be. Save 24% on our absolute summer saviors!
Smoothie:
- Tiger grass: Stimulates collagen formation, for better regeneration and wound healing of the skin. Counteracts scarring and stimulates cell growth.
- Jojoba oil: Anti-inflammatory, nourishing and relaxing. Antibacterial and anti-allergenic. Super for all skin types.
- Vitamin E
For more moisture and increased resistance of the skin. Anti-inflammatory, nourishing, and soothing.

OCTYLDODECYL OLEATE, OCTYLDODECYL STEAROYL STEARATE, BRASSICA CAMPESTRIS/ALEURITES FORDII OIL COPOLYMER, SIMMONDSIA CHINENSIS SEED OIL*, HELIANTHUS ANNUUS SEED OIL*, POLYHYDROXYSTEARIC ACID, OCTYLDODECANOL, TRIHYDROXYSTEARIN, HELIANTHUS ANNUUS HYBRID OIL*, LINOLEIC ACID, TOCOPHEROL, SALVIA TRILOBA LEAF EXTRACT*, CENTELLA ASIATICA EXTRACT*, PALMITIC ACID, STEARIC ACID, LINOLENIC ACID
*organic farming

Peeling Solution:
- With aloe vera: itch-reducing, cooling, anti-inflammatory and moisturizing.
- Licorice root extract: antioxidant, soothes skin irritations, reduces itching, and promotes wound healing, especially suitable for the care of inflamed and irritated skin
- Oat extract: has an anti-inflammatory, anti-irritant, and anti-itching effect, supports the skin's water-binding powers and soothes - especially suitable for sensitive skin
- Hyaluronic acid: moisture retaining and hydrating, improves wound healing

AQUA; GLUCONOLACTONE; GLYCERIN; PENTYLENE GLYCOL; CITRIC ACID; TARTARIC ACID; LACTIC ACID; GLYCYRRHIZA GLABRA ROOT EXTRACT; SODIUM HYALURONATE; AVENA SATIVA KERNEL EXTRACT; ALOE BARBADENSIS LEAF JUICE POWDER*; BENZYL ALCOHOL; SODIUM HYDROXIDE
*organic farming

SOS Skin Care Oil:
🫐 With Ashwagandha: Anti-oxidant, anti-bacterial and anti-inflammatory.
🍋 With vitamin E: For increased resistance of the skin, counteracts inflammation.
🌱 With aloe vera: Anti-itching, cooling, anti-inflammatory and moisturizing
🥥 With high-quality oils: almond oil, jojoba oil, and coconut oil

PRUNUS AMYGDALUS DULCIS OIL*; HELIANTHUS ANNUUS SEED OIL*; SIMMONDSIA CHINENSIS SEED OIL*; COCOS NUCIFERA OIL*; WITHANIA SOMNIFERA ROOT EXTRACT; BISABOLOL; SALVIA TRILOBA LEAF EXTRACT*; ALOE BARBADENSIS LEAF EXTRACT*; ROSMARINUS OFFICINALIS LEAF EXTRACT; TOCOPHEROL
*organic farming



Sunburn or razor burn?
Sore inner thighs?
never again with our SOS skin oil.
and strawberry skin: never again with the peeling.
No frictions thanks to the smoothie!
Customer Voices
Since I started using the Oil, I don't have irritated skin in the intimate area anymore. Love it!
I use the oil several times a week after shaving my beard and head. I'm in awe.
I always use the Oil after taking a shower and put it everywhere I have shaved. If then but once a hair grows in, the peeling helps in no time!
Feels so good. Soft and smooth skin every day
I love the subtle scent. A little oil lasts really long and is my new skincare favourite for the whole body🔥!
And if it's going to get even hotter:
Play On