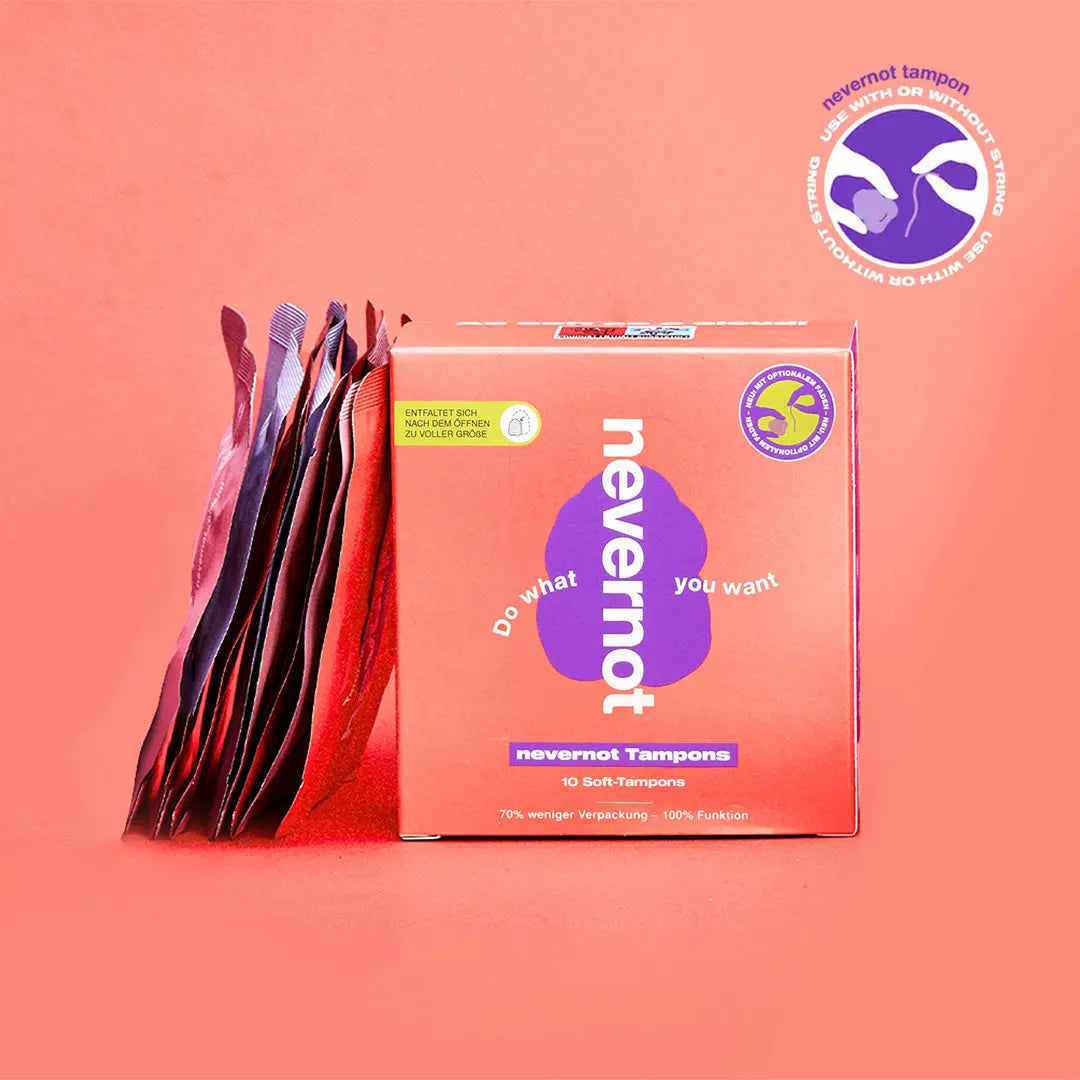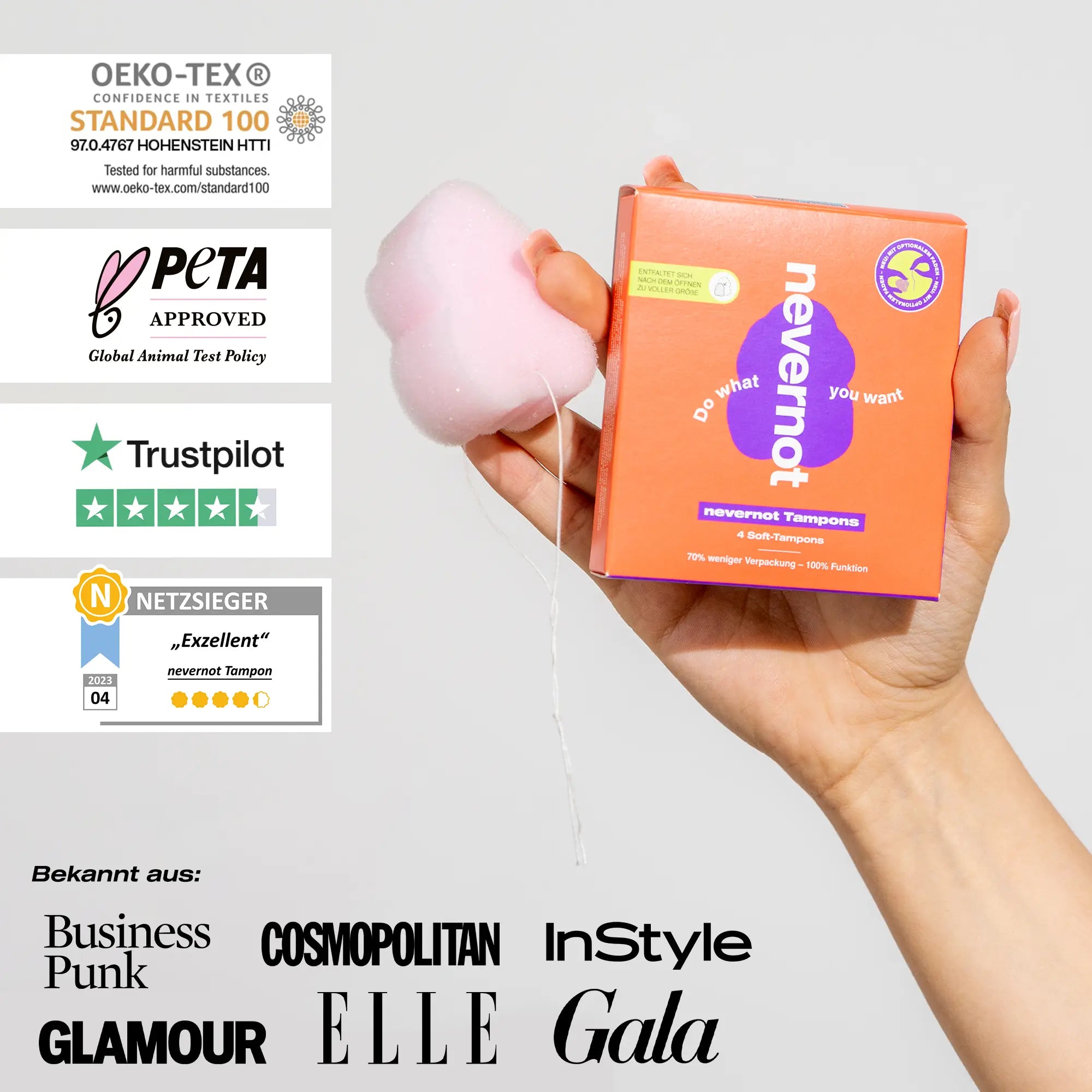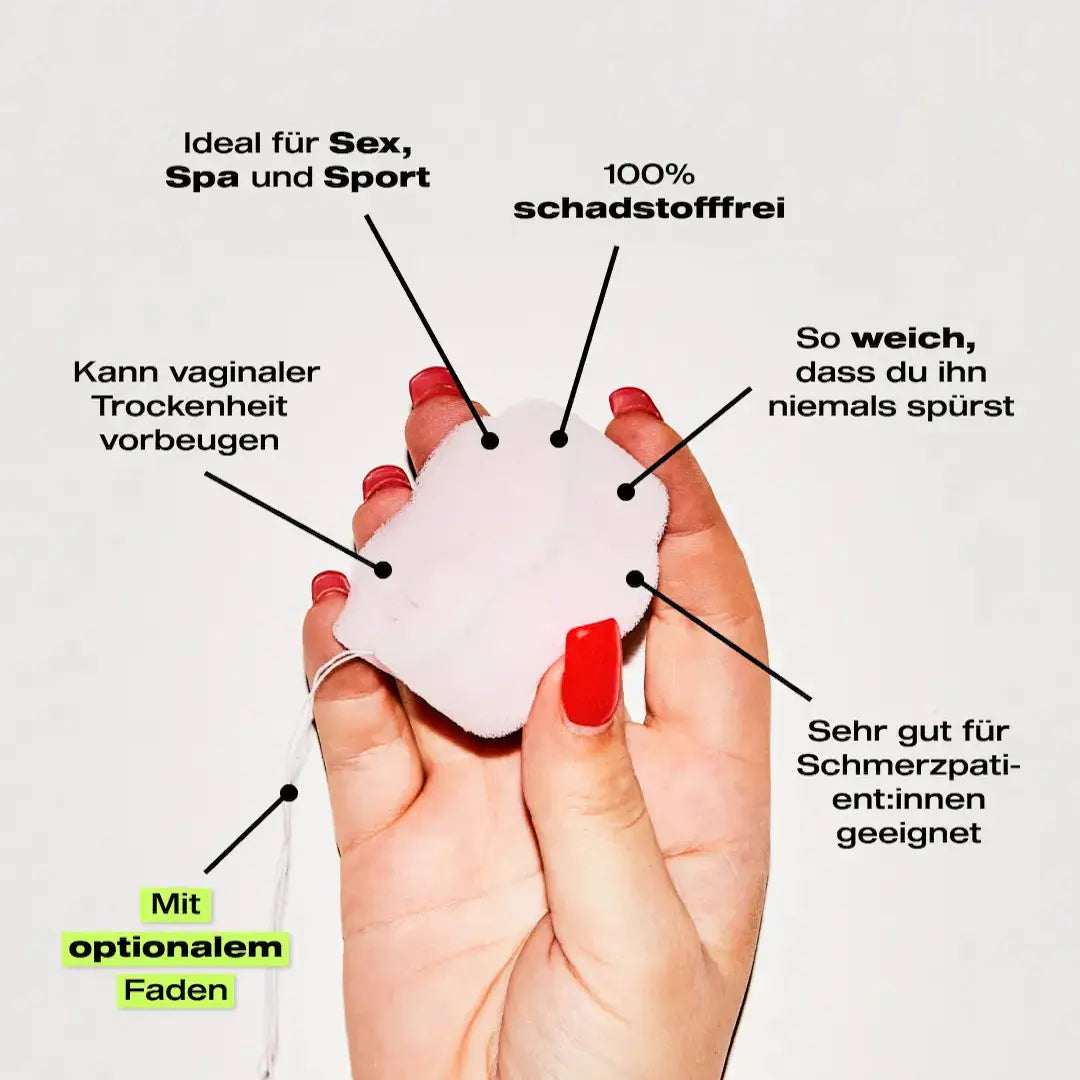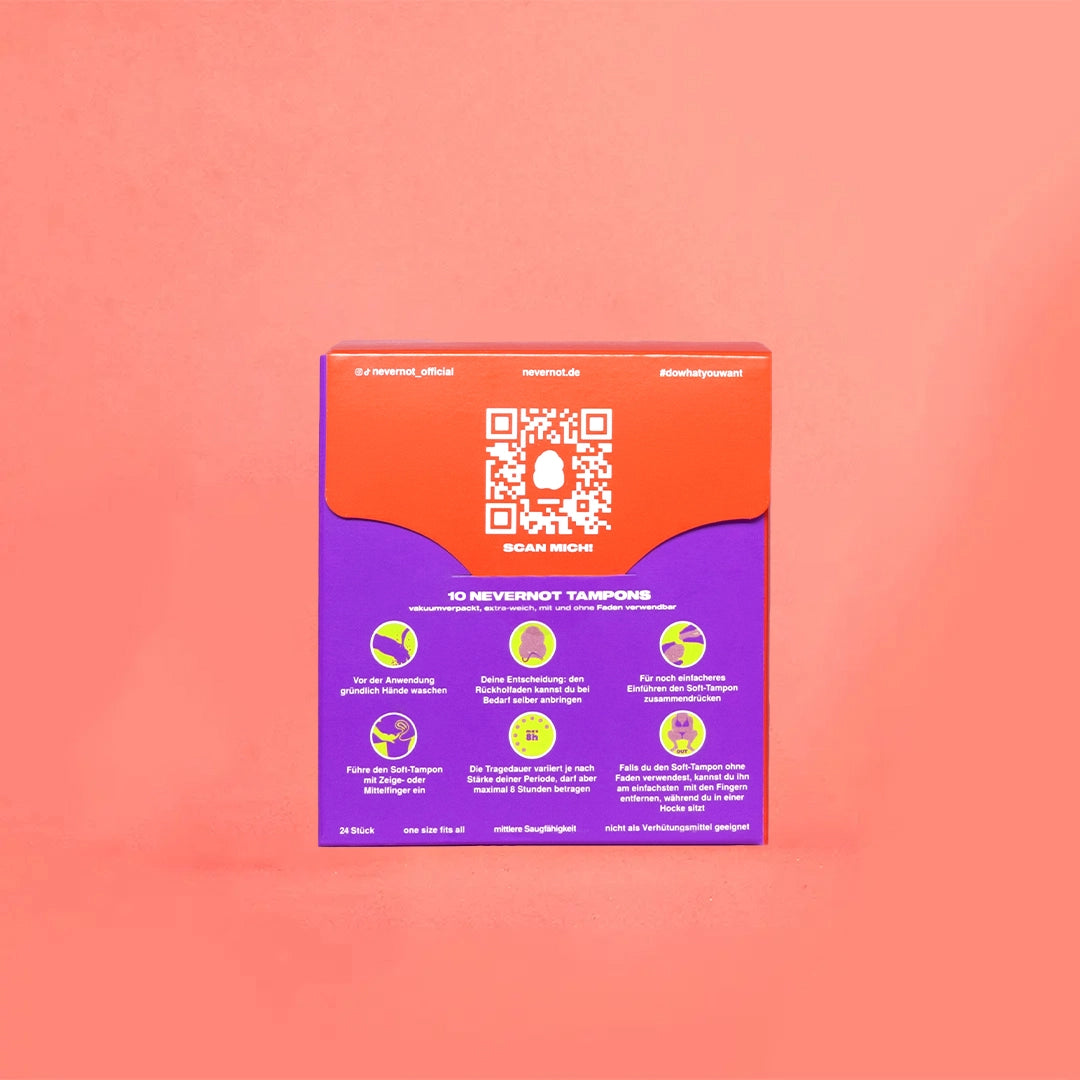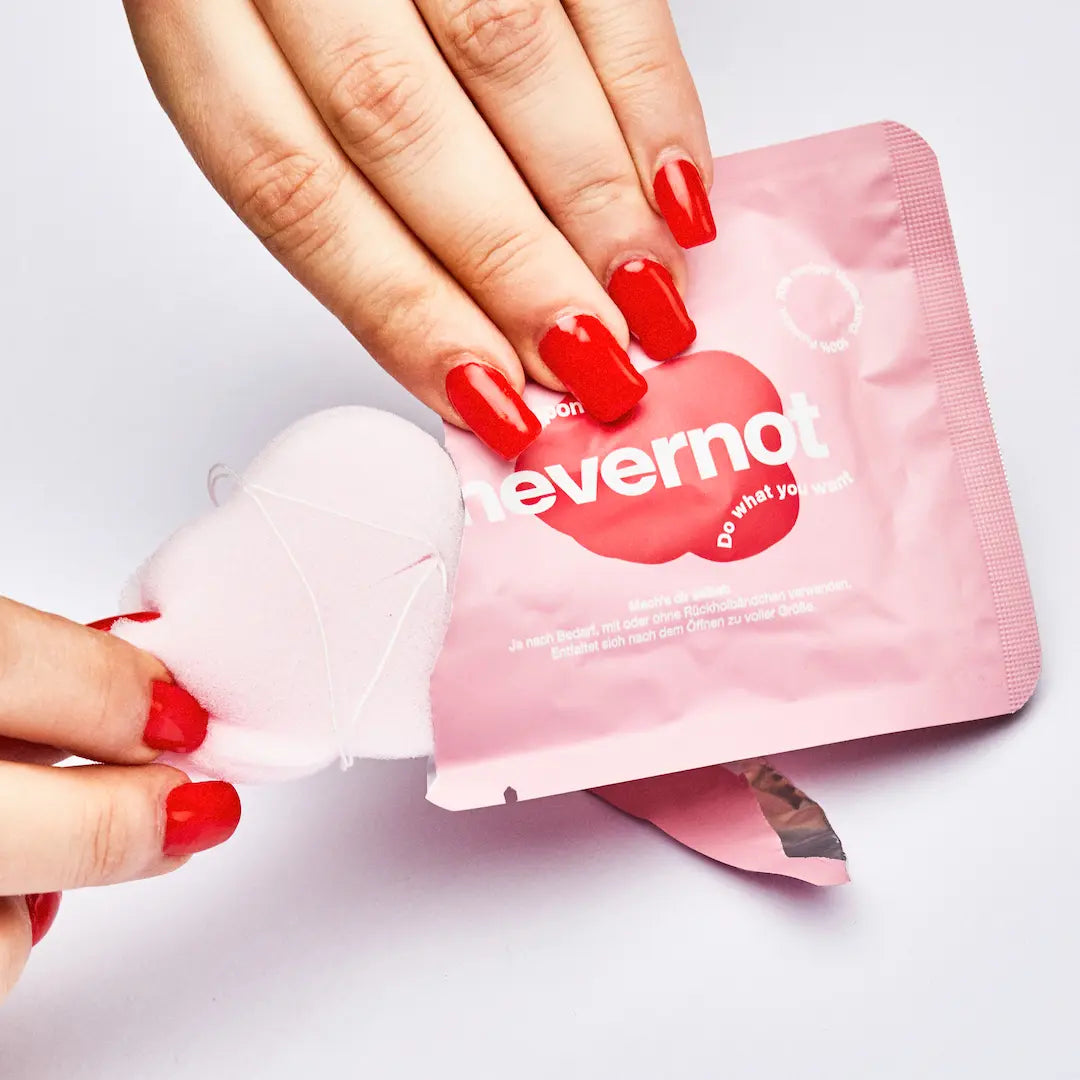 incl. VAT plus shipping costs
NEW: 2 Soft-Tampons extra!

The nevernot tampon - The world first
🔥 Period sex? The sheets stay clean!
💕 Very well suited for pain patients and athletes: You never feel it
🧶 The first soft-tampon with optional thread
🧡 Thanks to vacuuming it fits in every pocket or purse
☁️ Made of super soft foam, 100% free of pollutants
Bitte entsorge den gebrauchten Soft-Tampon über den Restmüll – nicht über die Toilettenspülung!

nevernot Tipp:
Wenn du ein Gefühl für die Handhabung des Soft-Tampons bekommen willst, kannst du ihn in Kombination mit dem optionalen Faden nutzen. Versuche den Soft-Tampon zunächst einmal mit angebrachtem Faden, aber ohne diesen zu nutzen zu entfernen, so kannst du dich an die Entfernung gewöhnen. Wenn du allerdings noch ein wenig mehr Übung benötigst, kannst du den Soft-Tampon einfach am Faden herausziehen.
Der Soft-Tampon ist das ideale Anfänger:innen-Produkt. Was bedeutet das?

Du hast Angst, dass du den Tampon nicht entfernen kannst? Brauchst du nicht!
Dank der einzigartigen Wölkchenform und beigelegtem Faden gibt es dieses Problem nie wieder.

Kann der Faden den Soft-Tampon reißen, wenn er vollgesogen ist?

Nein, wir haben auch am Material gearbeitet, der Soft-Tampon ist super reißfest.

Ich trage eine Spirale (o.ä.) zur Empfängnisverhütung. Kann ich die Soft-Tampons von nevernot benutzen?

Ja, generell können die Soft-Tampons von nevernot sehr gut zusammen mit einer Hormonspirale, einer Kupferspirale, einem Kupferball oder Ähnlichem verwendet werden. Solltest du Bedenken haben, sprich gern mit deine:r Gynäkolog:in.
Unsere Soft-Tampons bestehen aus super weichem Schaumstoff und sind zertifiziert 100% frei von Schadstoffen.

Der optionale Faden besteht aus 100% Bio-Baumwolle.

Unsere Umverpackungen bestehen aus biologisch abbaubaren oder recycelten Materialien und wurden mit biologisch abbaubarer Farbe bedruckt.
Customer Voices
...with the nevernot Tampon
Love the soft-tampons, they give me an all-round good feeling. Finally, no more dry feeling and no more pain from cotton tampons!
The wearing comfort is incomparable! I tested the soft-tampons for the first time and am thrilled. My partner didn't notice it at all.
Gamechanger! The best soft-tampon I know! The shape makes it very easy to remove and I don't feel it at all.