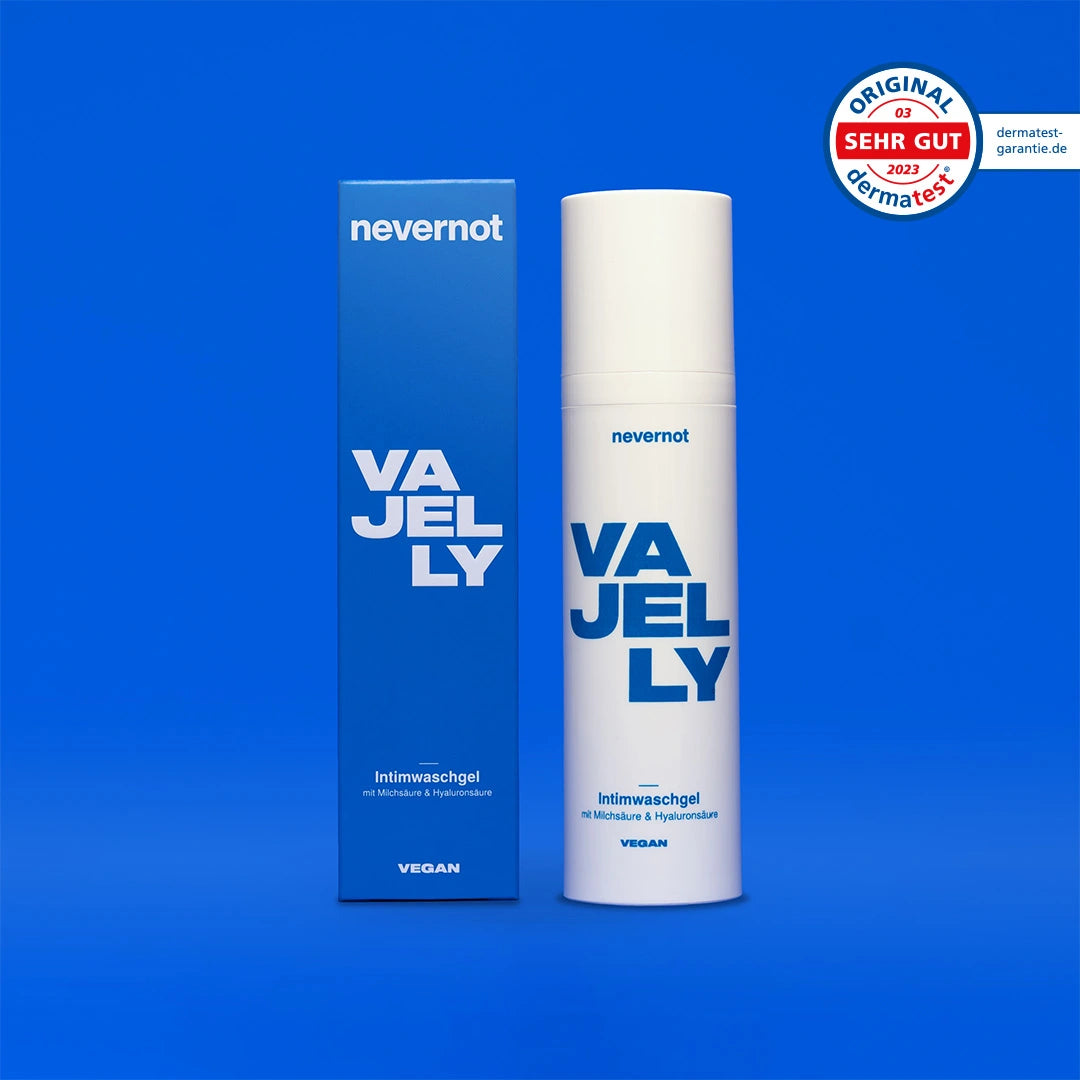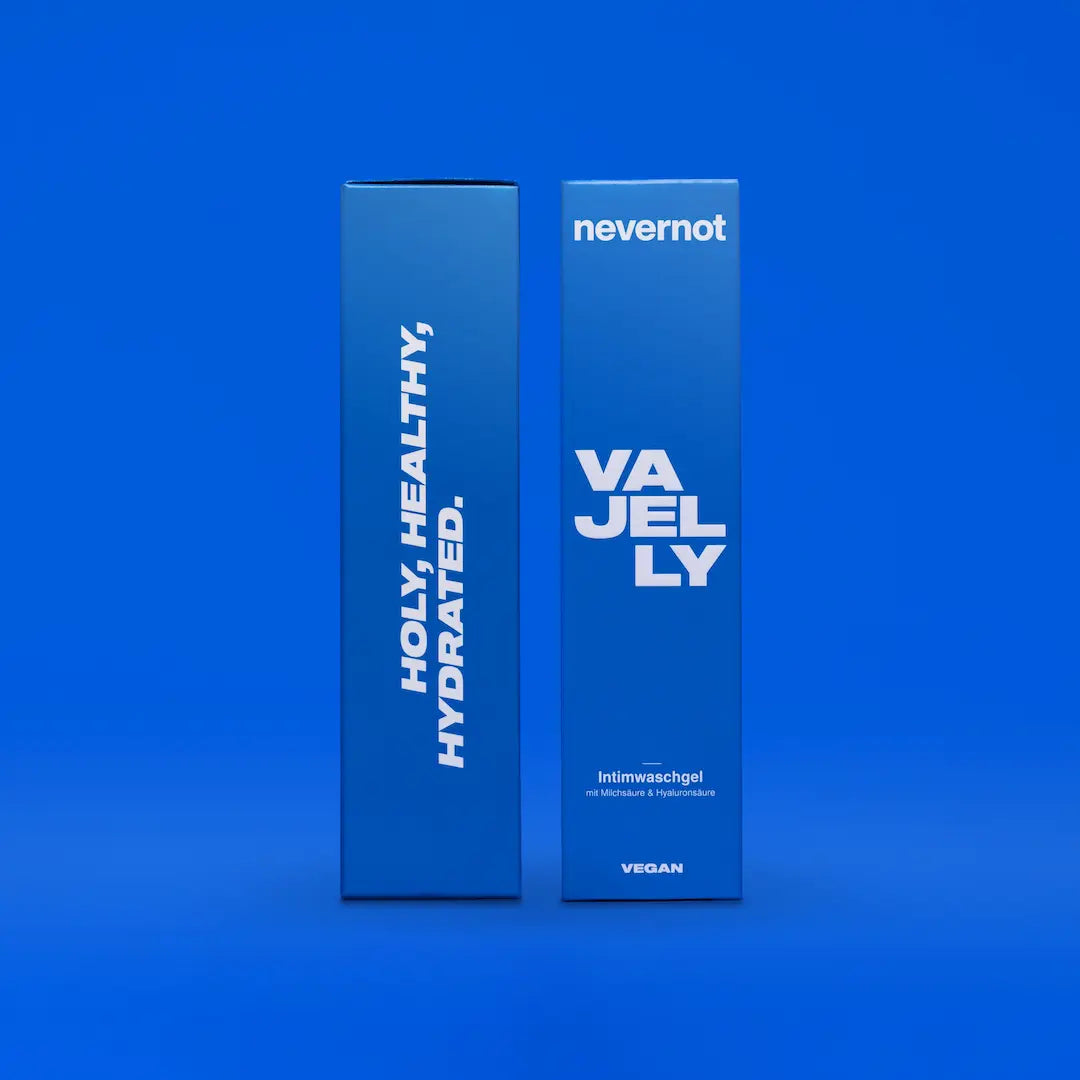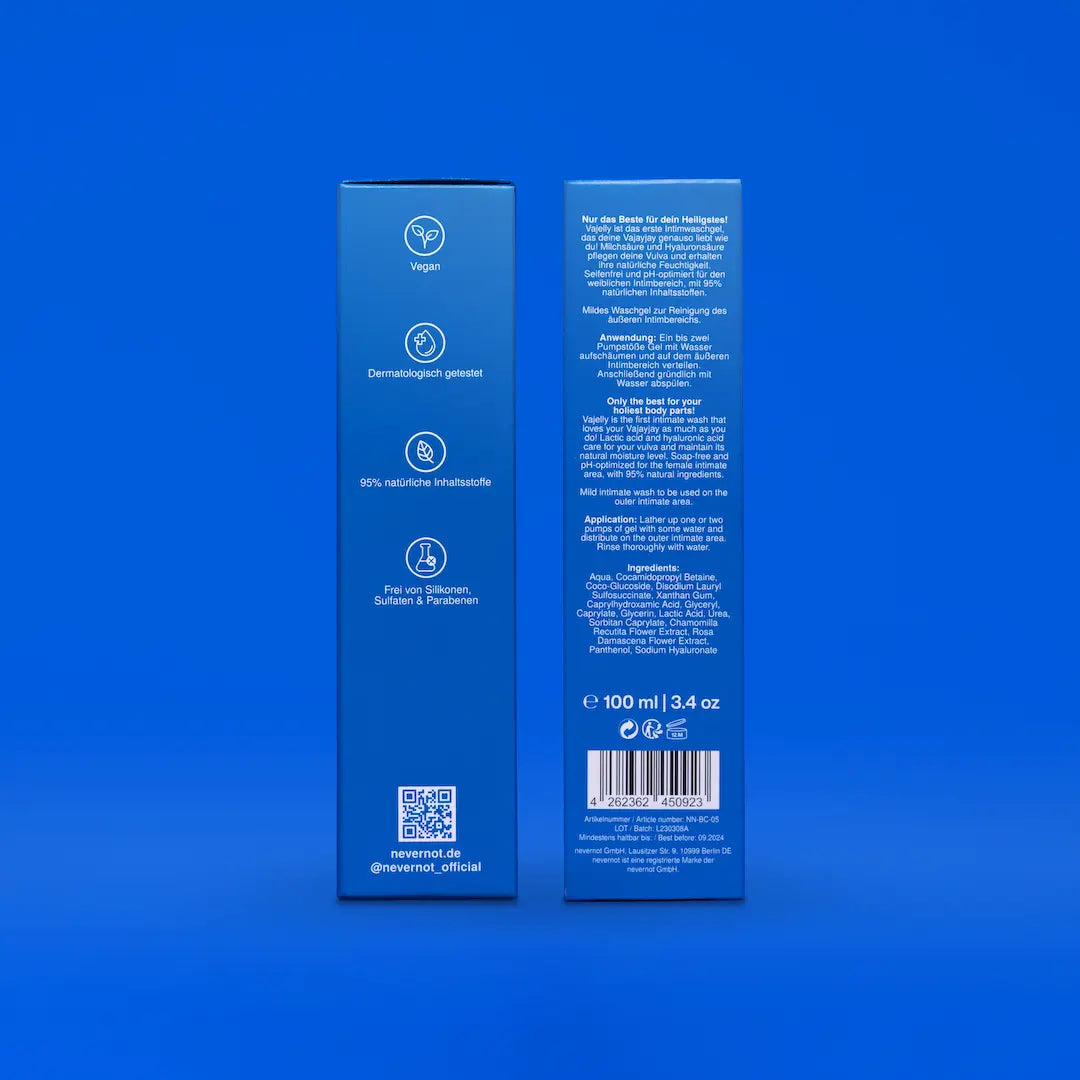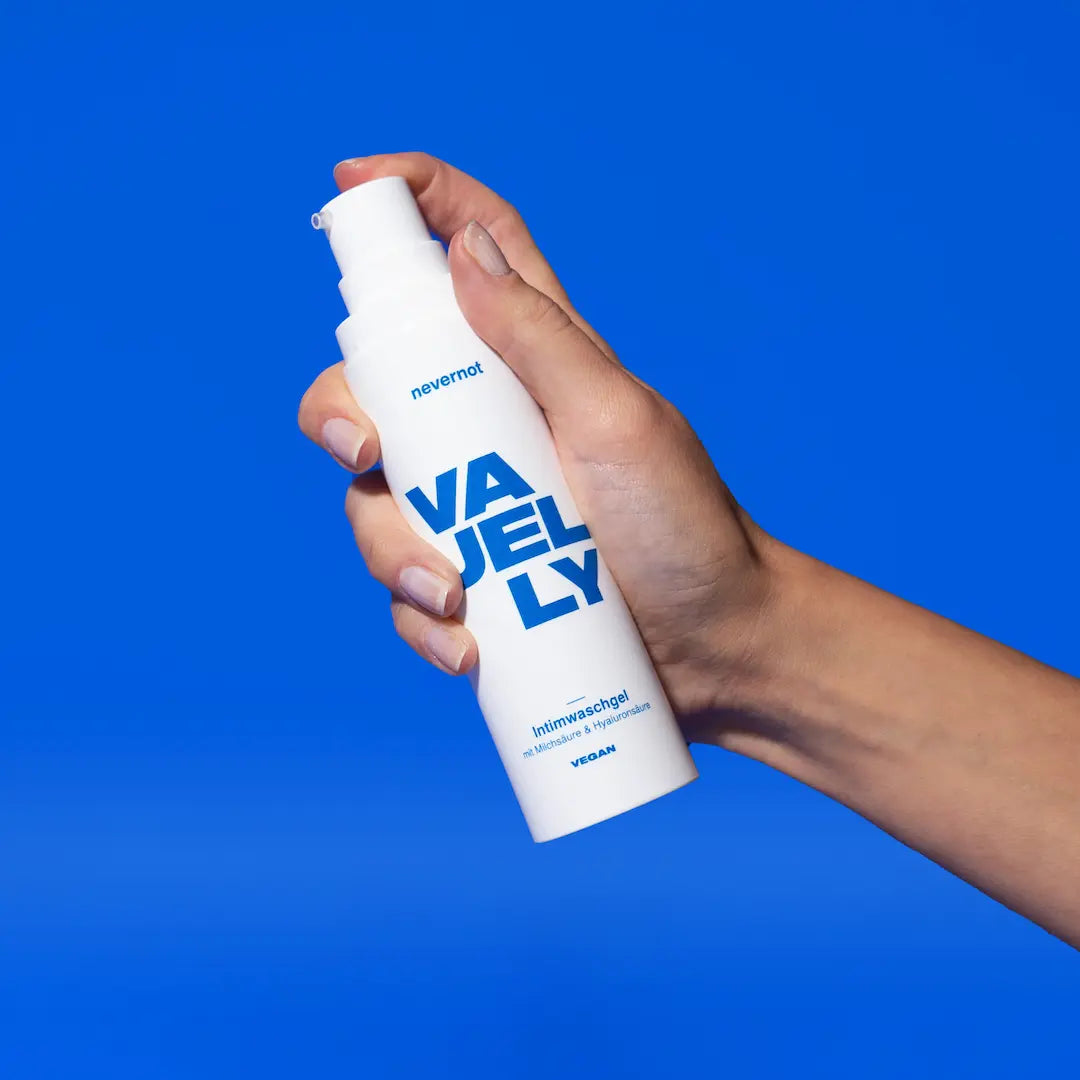 €12,90
€14,90
Unit price
€12,90
per
100 ml
incl. VAT plus shipping costs
Holy. Healthy. Hydrated. The only intimate wash lotion that loves your vulva like you do.
🌿 95% natural ingredients for super-sensitive care.
💧 Perfectly matched to the pH of the intimate zone.
🥛 With lactic acid for optimal protection
💦 Contains moisturizing hyaluronic acid
💥 Without harmful fragrances, sulfates, silicones and PEGs
💚 Vegan and animal-free
🩹 Dermatologically tested
❤️‍🩹 Dermatest: Very good!
Content: 100ml
Your holiest deserves only the best. That's why we've developed Vajelly, a natural intimate wash lotion that doesn't upset the natural flora of your intimate area. Vajelly is perfectly adapted to the pH of your intimate zone and provides super-sensitive care. The gel convinces with 95% natural ingredients and comes without harmful fragrances, sulfate, silicones and PEGs.

Instead, hyaluronic acid and lactic acid provide the optimal balance.
Hyaluronic acid, as a substance produced naturally in the body that binds water in the tissues, provides moisture and prevents vaginal dryness.
Lactic acid ensures a low pH value in the intimate area. In addition, chamomile extract and urea soothe irritations and provide protection for the sensitive mucous membranes.

At the same time, Vajelly is soap-free. By the way, the naturally caring formula has already convinced the Dermatest: Vajelly received the test result 'very good' - and is therefore ideally suited for users with sensitive skin.
AQUA, COCAMIDOPROPYL BETAINE, COCO-GLUCOSIDE, DISODIUM LAURYL SULFOSUCCINATE, XANTHAN GUM, CAPRYLHYDROXAMIC ACID, GLYXERYL CAPRYLATE, GLYCERIN, LACTIC ACID, UREA, SORBITAN CAPRYLATE, CHAMOMILLA RECUTITA FLOWER EXTRACT, ROSA DAMASCENA FLOWER EXTRACT, PANTHENOL, SODIUM HYARULONATE




Vegan und ohne Tierversuche
Dermatologisch getestet
95% natürliche Inhalsstoffe
Frei von Silikonen, Sulfaten & Parabenen
When washing gel -
THEN VAJELLY
Intimate washing lotions are not necessary. Most gynecologists agree on this because the market is flooded with products that disturb the intimate flora - sometimes even doing more harm than good. Nevertheless, many people with vulvas feel uncomfortable without intimate wash gels, especially in summer.
That's why we've developed Vajelly, the first wash lotion that loves your vulva as much as you do. Vajelly  contains no harmful ingredients and supports healthy intimate flora. The aim is explicitly not to cover up the natural smell of the vulva, because Vajelly is odor-neutral. Instead, we want to offer a product that gives you the freedom to take care of yourself without harming yourself.
From the Community
for the community
At nevernot, we only want to offer products that solve real problems. That's why we have created our own Tester-Community, which supports us with direct feedback and advices. During the development of Vajelly, the community was involved from the very beginning - and accompanied the entire product development process.
25% discount also on these Bundles
Code: JELLY25
Our test community's feedback
I often have to fight with bacterial vaginosis, so I've been using intimate wash lotions for a long time. Most were always very smelly - that is different with Vajelly. Like a little extra support for the natural flora. Love it!
Vajelly is my first intimate wash lotion, because you actually do not need it. Therefore, I was also just super skeptical when you wrote. After a few weeks of use, I must say: Never again without! Somehow I feel just a bit fresher than usual. THANKS❤️‍🔥
I've been looking for a wash lotion during my period for a while and just haven't found it. Somehow they have always dried me out. Vajelly is different! That is certainly due to the hyaluron. Awesome!
The texture of the lotion is really pleasant and slightly foaming, plus it leaves a good feeling without burning or itching. I also use it sometimes as a wash gel for the face or when other skin areas are irritated. Just a top product!
Completely without
Harmful ingredients
Common ingredients of concern in other wash gels  or even  shower gels (please, don't!) include, for example, harsh washing substances such as surfactants and sulfate, or intense fragrances that attack the vulva's protective skin barrier and disrupt its acidic pH.

With Vajelly, we want to help users not only feel good, but also healthy and carefree at the same time.Therefore, it comes completely without fragrances, sulfate, surfactants and silicones.