Alles für die Anal-Reinigung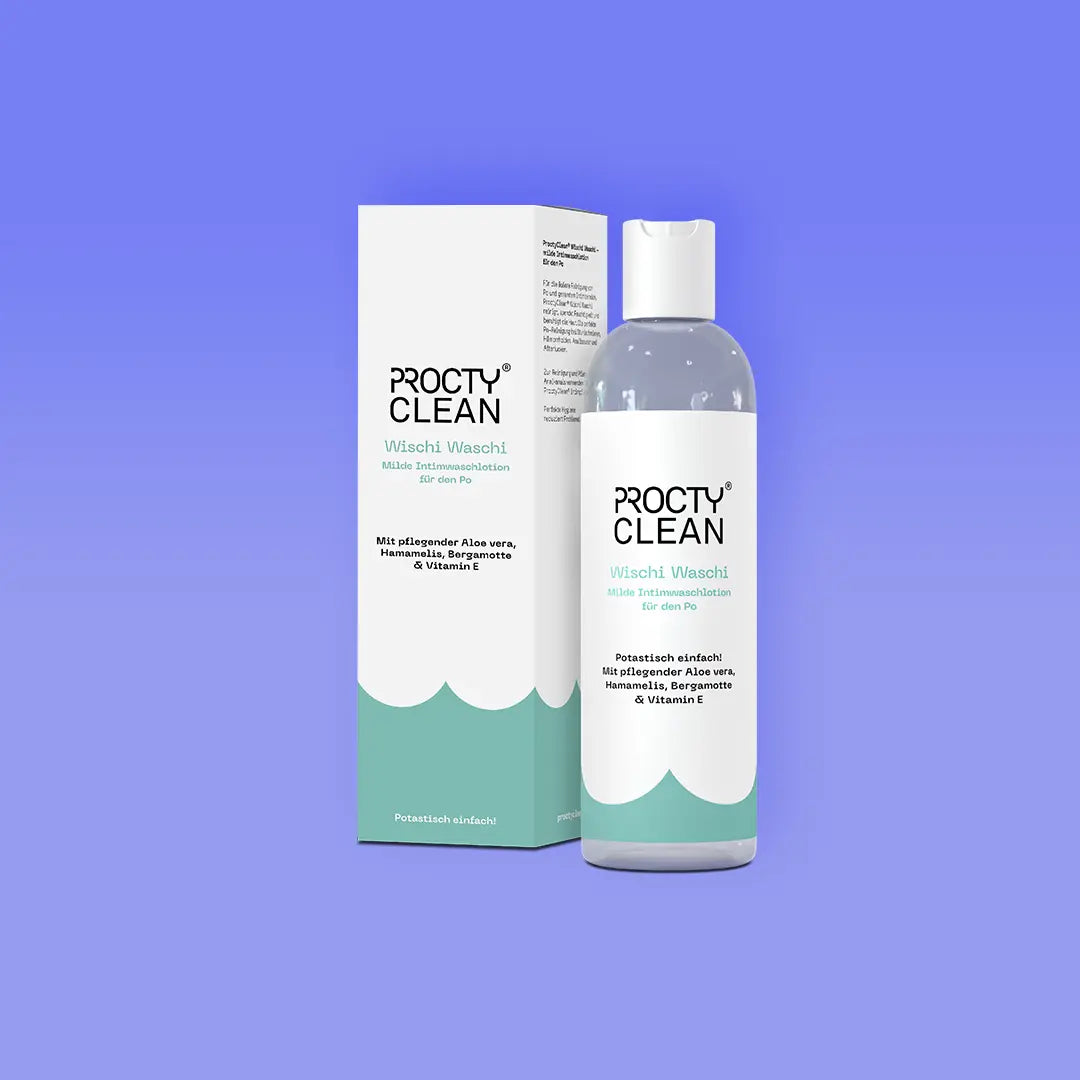 €17,90
Unit price
€8,95
per
100 ml
incl. VAT plus shipping costs
Only the best for your bottom! With the ProctyClean Intimate Cleansing Lotion, you can gently cleanse your bottom for even more pleasure during 🍑-sex.
✨ Gently and effectively cleanses and cares for your bottom.
❤️🔥 pH skin-neutral, perfect for daily cleansing of all skin types
💦 Has a particularly gentle effect and provides moisture
🌱 Witch hazel, aloe vera, bergamot and vitamin E nourish and give a pleasant freshness
🇪🇺 Developed and manufactured in Europe
ProctyClean® Wischi Waschi is the first intimate cleansing lotion for the bottom and was specially developed for external use.

200 ml in an rPET bottle
Suitable for daily external cleansing of the bum.
Vitamin E helps the skin to strengthen its natural protective barrier and promotes wound healing.

Aloe vera has an anti-inflammatory and antibacterial effect and moisturises at the same time.

Bergamot has a very pleasant scent, has an antimicrobial effect and heals wounds.

Witch hazel reduces itching and has an anti-inflammatory effect.

Aqua, Sodium Laureth Sulfate, Cocamidopropyl Betaine, Propylene Glycol, Laureth-3, Lactic Acid, Tocopheryl Acetate,Hamamelis Virginiana Water, Aloe Barbadensis Leaf Juice Powder,Citrus Aurantium Bergamia Peel Oil, Sodium Chloride, Sodium Benzoate, Polyquaternium-44, Limonene, Linalool, Alcohol,Phenoxyethanol, Ethylhexylglycerin.
Quick relief for irritation and itching in the anal area
Contains nourishing Vitamin E
Perfect duo for daily care & intensive cleansing
incl. VAT plus shipping costs
Your gift for orders over €24.90!
Simply add the ProctyClean Intimate Care Set to your cart. The discount will be applied automatically.
Limited quantity available, so act fast!

Enjoy 🍑-sex to the fullest.

💦 gently and effectively removes stool residue from the anal canal and nourishes it with an oil film.
🧼 cleans where the problems arise and does not just scratch the surface like toilet paper.
❤️🩹 Inflammation, irritation and pain in the anal area are reduced through targeted hygiene.
✨ Rapid increase in well-being after just a few applications, due to the increased hygiene.
The ProctyClean® intimate care set helps you remove stool residues from the anal canal, cares for it with an oil film and goes directly to the cause. In this way, inflammation, irritation, itching and pain in the anal area are relieved through targeted hygiene.

1x Proctyclean intimate care stick
1x Proctyclean vitamin E-oil
Application in the shower or in front of the sink:
1. application in the shower is optimal. Depending on your mood, you can stand or squat down slightly.
2. gently insert the prepared ProctyClean® intimate-Care Stick moistened with vitamin E oil into the anus up to the intermediate part.
This makes it easier: actively relax the anus while inserting or even press lightly. After a few times, you'll get the hang of it!
3. Now move the ProctyClean® Intimate-Care Stick back and forth with small longitudinal movements about 2 to 3 times. Do this in such a way that it is comfortable for you.
4. pull out the ProctyClean® intimate-Care Stick completely and rinse it with water.
Repeat steps 2, 3, and 4 until no more stool residue is visible on the Intimate-Care Stick. Repeating these steps effectively cleans the inner mucous membrane of the anal canal.
6. almost done! When no more stool remains are visible on the intimate-Care Stick, finally pull out the Intimate-Care Stick and rinse your external anal area thoroughly with water. Finally, clean the ProctyClean® Intimate-Care Stick thoroughly. This is best done with a hot, strong jet of water.
7. Dry your external anal area gently but thoroughly with a soft cloth. Please do not rub.
ProctyClean® Vitamin E-Oil:
Paraffinum Liquidum, Petrolatum, Tocopherol, Paraffin, Helianthus Annuus Seed Oil, Bisabolol, Guaiazulene.

ProctyClean® intimate hygiene stick:
Medical grade plastic

Developed and recommended by doctors.
Female founded, but...
FOR EVERYONE WHO LOVES TO MAKE LOVE
We want to bring your joy to discover pleasure and body to the next level. Create a place that inspires you to playfully discover what makes you good. Talk openly about your needs and desires without unnecessary shame - and empower you to put them into practice. It doesn't matter whether you are beginners or professionals when it comes to Intimate Wellness.