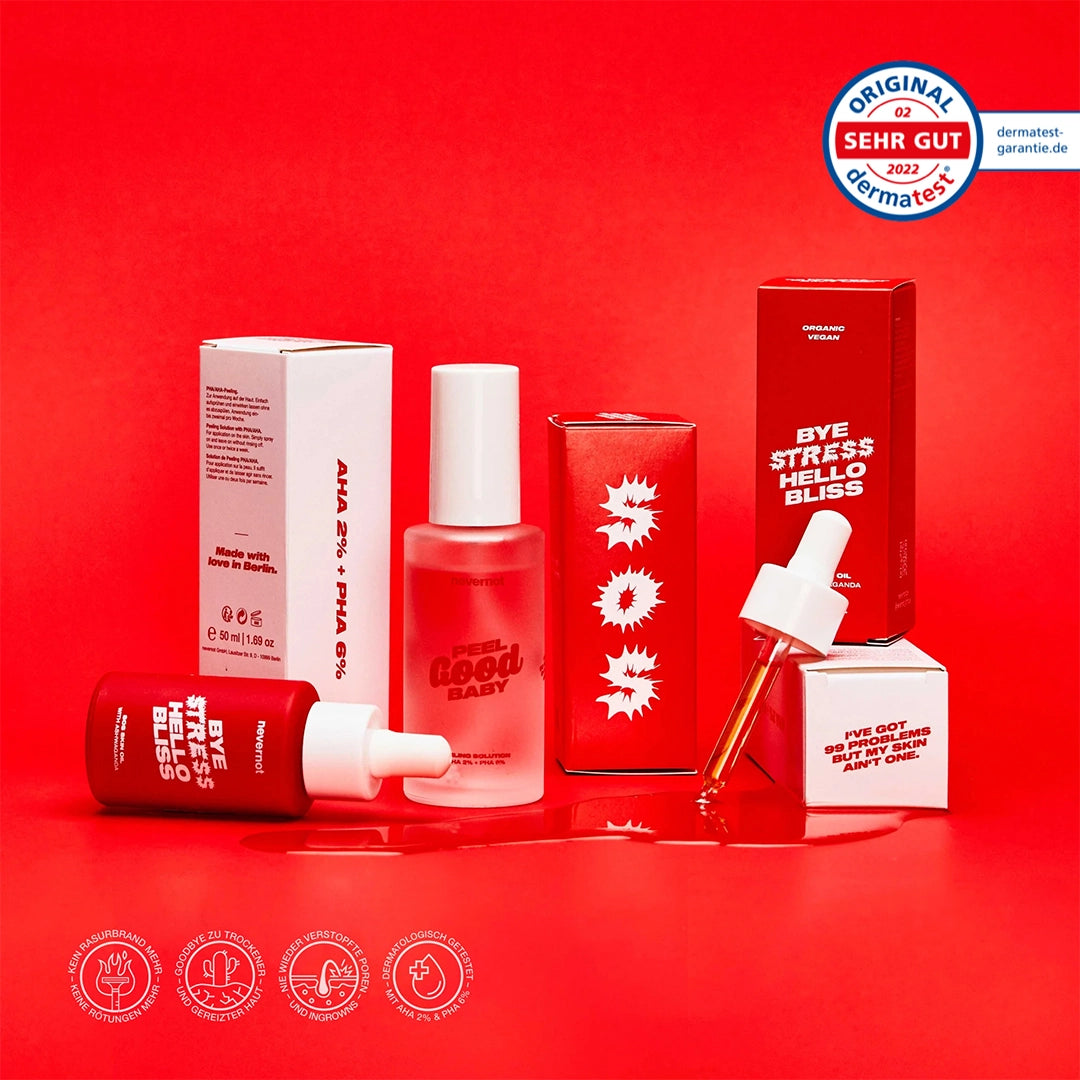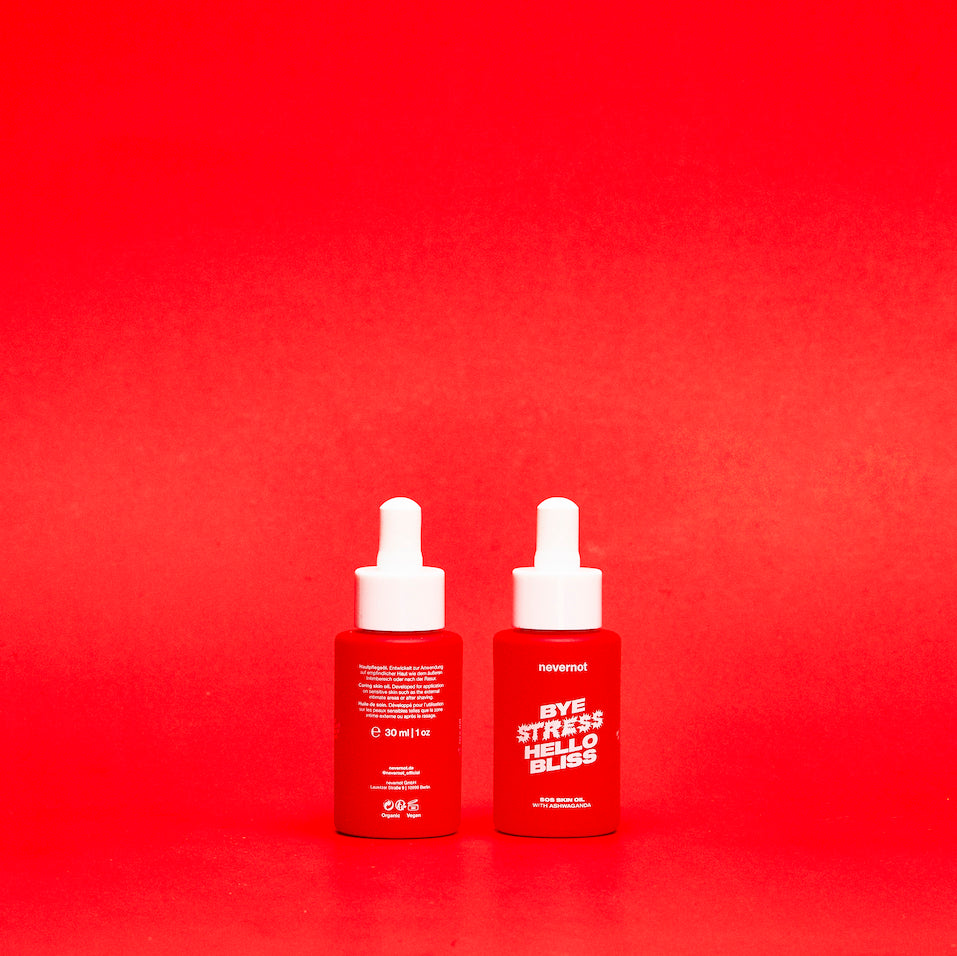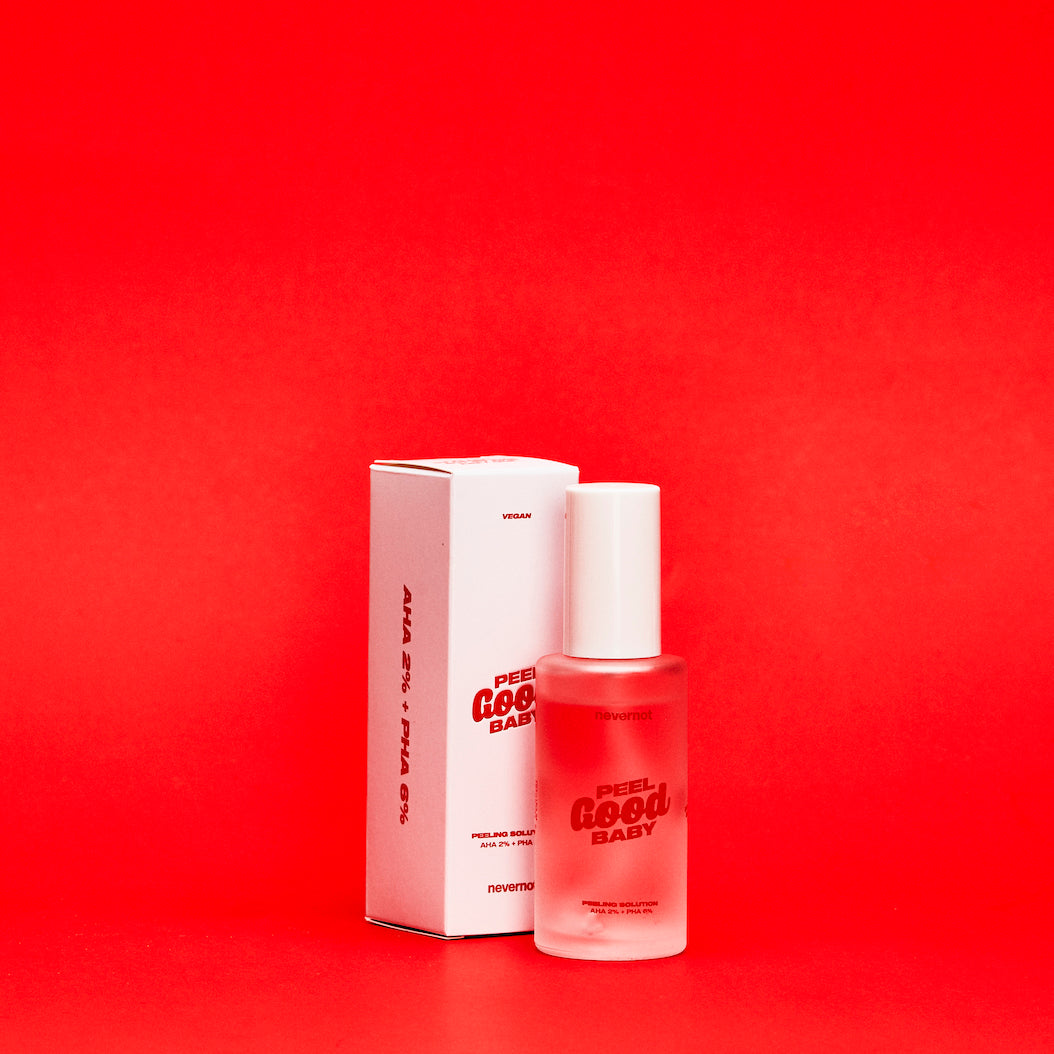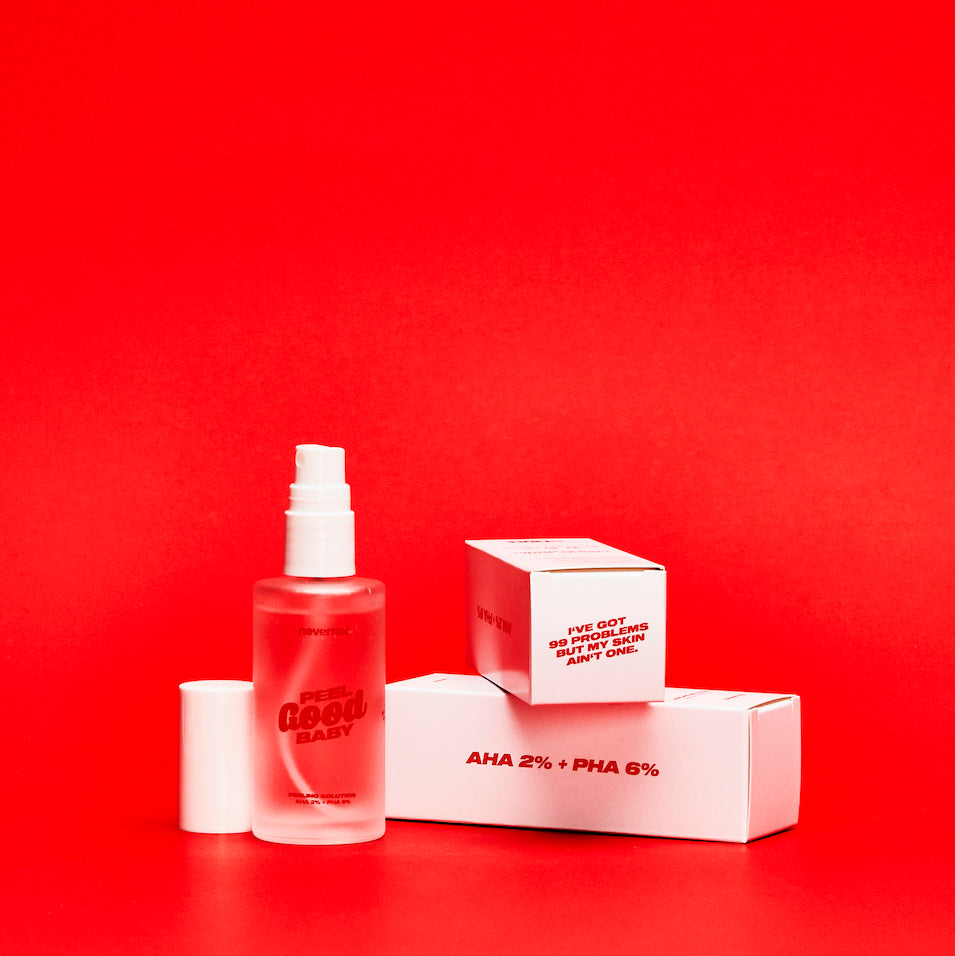 incl. VAT plus shipping costs
The SOS Skin & Intimate Oil (30ml)
💙 For the whole body – especially adapted to the intimate area
💖 Ideal for stressed skin
💫 Especially adapted to the intimate area
🛁 After-shave after shaving
💥 After-care after sex
❄️ For dry skin in winter
💧 Suitable for particularly sensitive skin
The Peeling (50ml)
🧪 With AHA 2% + PHA 6%
💫 Against pimples, blackheads, impure skin and ingrown hairs
✨ Can be used in the external intimate area
💕 Frees pores and hair follicles from bacteria and skin cells
💧 Particularly gentle and hydrating
SOS Skin & Intimate Oil:
Simply apply to the affected area. The natural oils relax the skin as soon as they are applied - effects from the first application. The oil is absorbed super fast and leaves no greasy film.

Areas of application: For the whole body; for dry or itchy skin, razor burn, after waxing or after sex. Particularly suitable for the intimate area.

nevernot tip: We love to care for our hair with the SOS Skin Oil. Whether it's beard, intimate hair or dry ends - just add a few drops to your hair and enjoy your "Great Hair Day".


The Peeling Solution:
Less is more. Depending on the skin area, just one or two pump strokes are enough to deliver effects. For sensitive areas such as the bikini line or face, we recommend applying the peeling with your fingers or a cotton pad - Apply to the outer intimate area. Simply apply and leave on without rinsing off.

For best results, use the scrub two to three times a week. Ideally, do not use immediately after shaving.

Areas of use: For spots all over the body, ingrown hairs and enlarged pores.
🌱 100 % natural

SOS Skin & Intimate Care Oil:
🫐 With Ashwagandha: Anti-oxidative, anti-bacterial and anti-inflammatory.
🍋 With vitamin E: For increased resistance of the skin, counteracts inflammation.
🌿 With aloe vera: Anti-itching, cooling, anti-inflammatory and moisturising
🥥 With high-quality oils: almond oil, jojoba oil and coconut oil.

Exfoliating:
🌱 With aloe vera: itch-reducing, cooling, anti-inflammatory and moisture-preserving.
🪵 Liquorice root extract: antioxidant, soothes skin irritations, reduces itching and promotes wound healing, particularly suitable for the care of inflamed and irritated skin
🌾 Oat extract: has an anti-inflammatory, anti-irritant and itch-relieving effect, supports the water-binding powers of the skin and soothes - particularly suitable for sensitive skin
💧Hyaluronic acid: Moisture retaining and hydrating, improves wound healing.

Ingredients nevernot skin and intimate oil:
PRUNUS AMYGDALUS DULCIS OIL*; HELIANTHUS ANNUUS SEED OIL*; SIMMONDSIA CHINENSIS SEED OIL*; COCOS NUCIFERA OIL*; WITHANIA SOMNIFERA ROOT EXTRACT; BISABOLOL; SALVIA TRILOBA LEAF EXTRACT*; ALOE BARBADENSIS LEAF EXTRACT*; ROSMARINUS OFFICINALIS LEAF EXTRACT; TOCOPHEROL.
*organic farming

Ingredients nevernot Peeling Solution:
AQUA; GLUCONOLACTONE; GLYCERIN; PENTYLENE GLYCOL; CITRIC ACID; TARTARIC ACID; LACTIC ACID; GLYCYRRHIZA GLABRA ROOT EXTRACT; SODIUM HYALURONATE; AVENA SATIVA KERNEL EXTRACT; ALOE BARBADENSIS LEAF JUICE POWDER; BENZYL ALCOHOL; SODIUM HYDROXIDE
SOS Skin- and Intimate Care oil
Never again skin irritations!
The nevernot Skin & Intimate Oil was developed especially for the intimate area: Dermatologically tested and made with 100% natural ingredients, it cares for and supports even the most sensitive areas of your skin. Whether as intimate care, as an after-shave or after-sex product.
100% NATURAL AND MAXIMUM EFFECTIVE!
You don't have to choose between natural ingredients and effectiveness anymore: The SOS Skin- and Intimate-Care Line is dermatologically tested, free of artificial fragrances, it was produced fairly in Berlin with a natural cosmetics manufacturer - and guarantees results!
Our test community's feedback
I always use the Oil after taking a shower and put it everywhere I have shaved. If then but once a hair grows in, the peeling helps in no time!
Since I started using the Oil, I don't have irritated skin in the intimate area anymore. Love it!
This Duo is my personal Game changer! My skin never looked better.
I always had big problems with ingrowns and shaving pimples that never really went away. Since the SOS Peeling Solution, that's a thing of the past! 💞
Who is into well-groomed skin and
(body) hair, should
not miss these two treasures!🔥
nevernot
SOS Skin Care Line