Jasmins Sommer-Favoriten
Nur für kurze Zeit mit weiteren 25% Rabatt testen
Einfach nevernot Produkte in den Warenkorb legen und mit dem Code 25% sparen.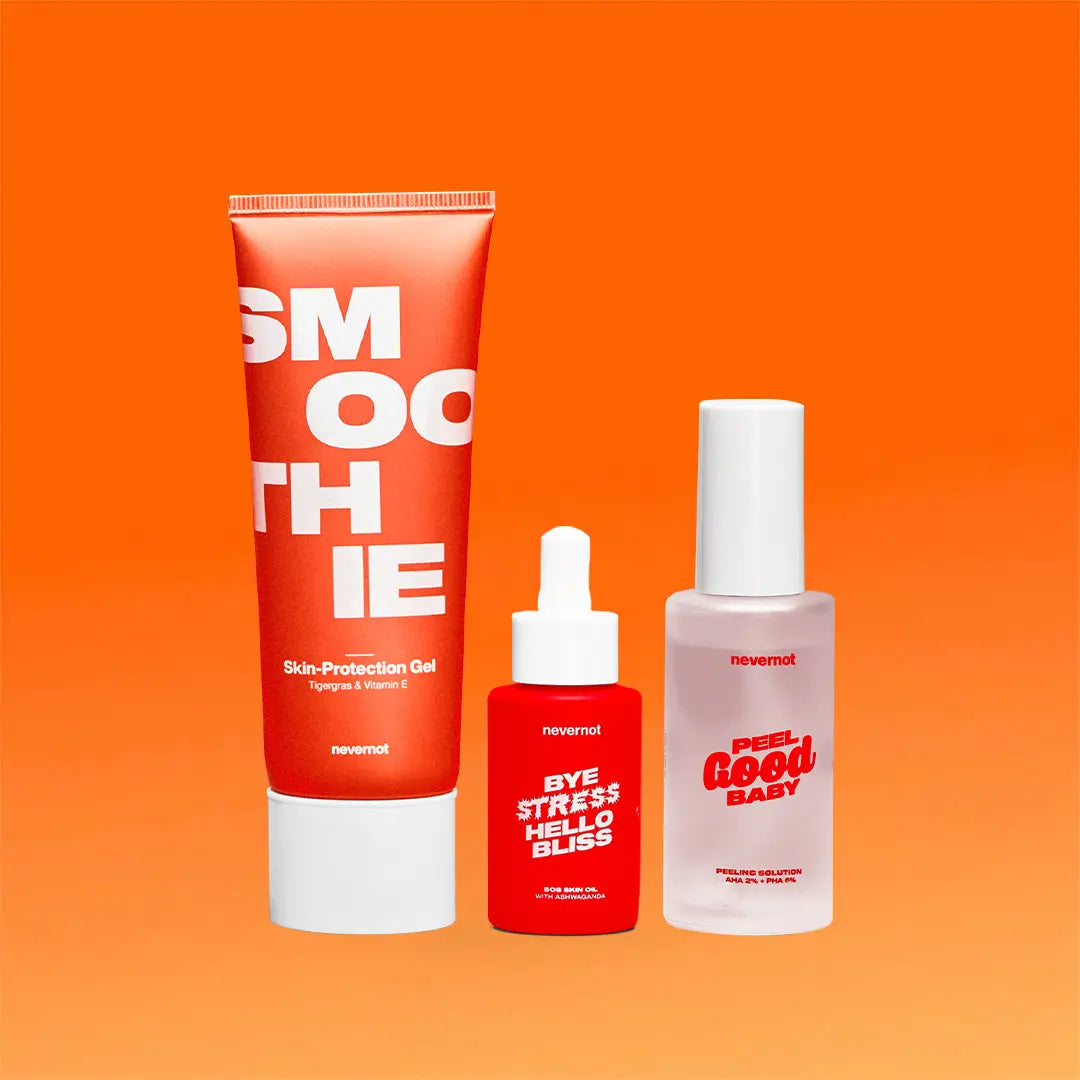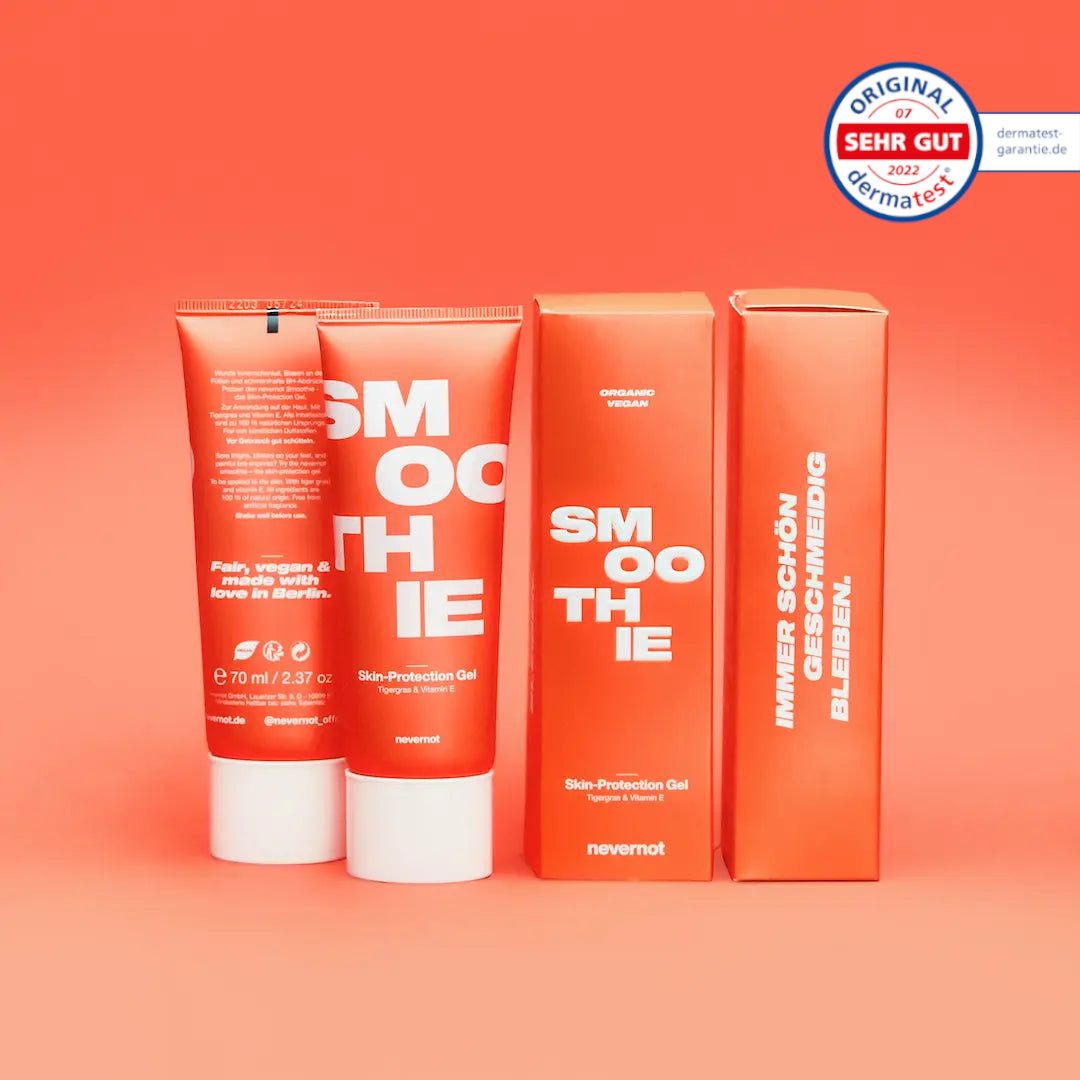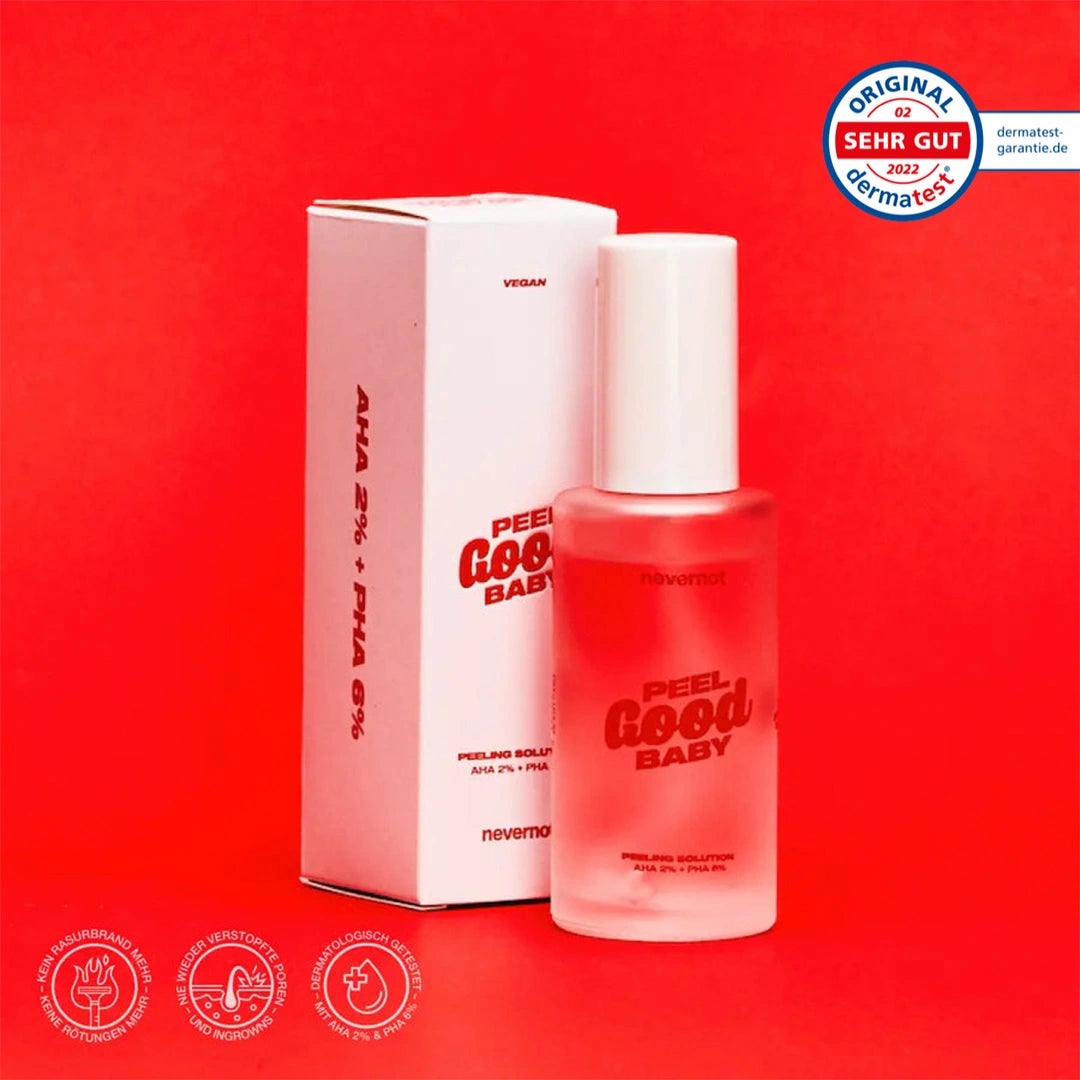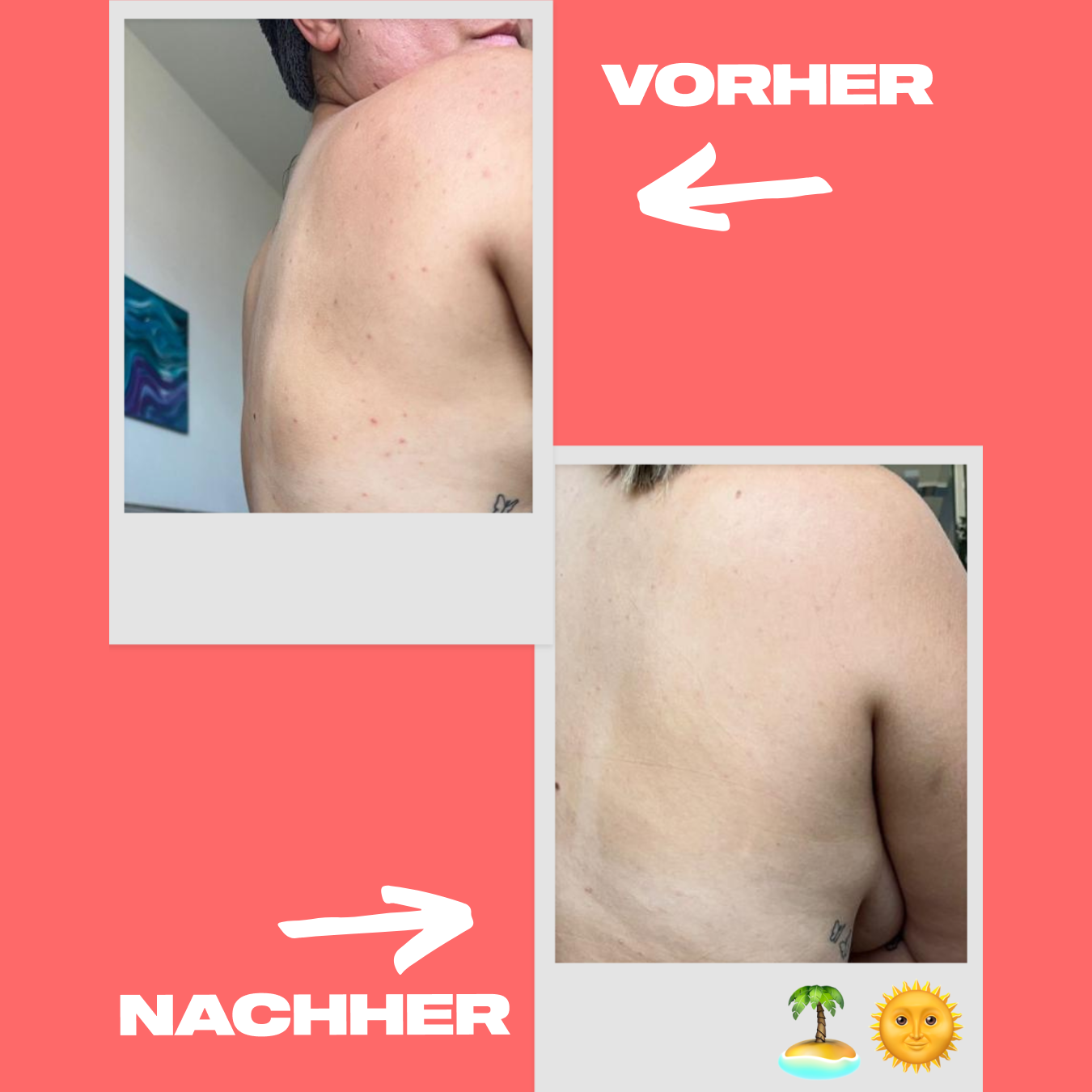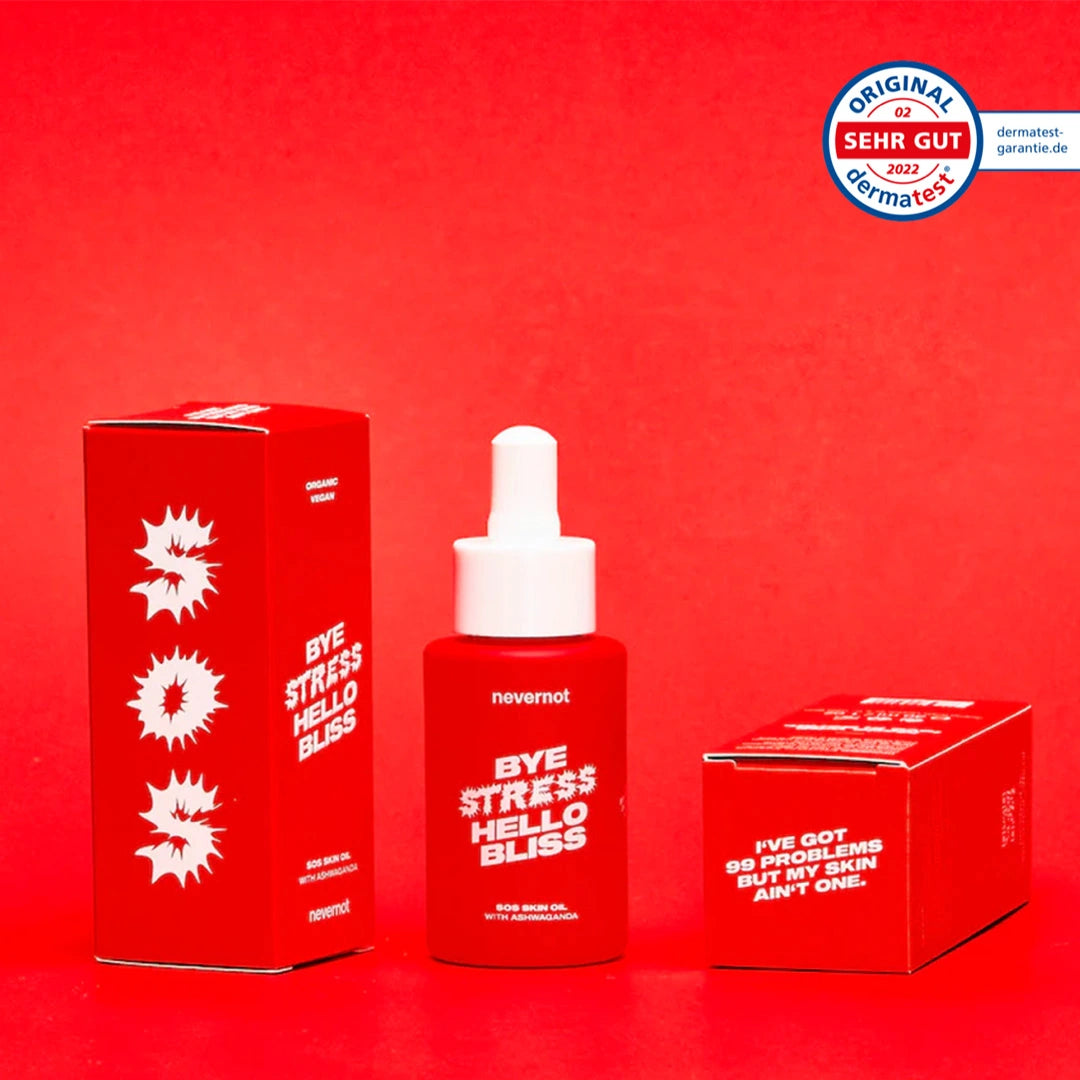 incl. VAT plus shipping costs
JASMINS ABSOUTE SOMMER-FAVORITEN IM BUNDLE!

🔥 SOS Skin-Pflegeöl gegen Rasurbrand und gereizte, trockene Haut
💦 Smoothie gegen Reibung und wunde Oberschenkel
✨ Peeling Solution gegen Unreinheiten und Erdbeerhaut am ganzen Körper
🌱 100% natürlichen Ursprungs

Smoothie – Das Anti-Wundreib Gel:
🧡 100 % natürliche Inhaltsstoffe, ohne Silikone
🐅 Mit Tigergras: antibakteriell, beruhigend und regenerativ
🍋 Mit Vitamin E: für eine erhöhte Widerstandsfähigkeit der Haut,
🪀 Mit Jojobaöl: pflegend, schützend und glättend

nevernot Peeling Solution:
❤️ Für den ganzen Körper
🧪 Mit AHA 2 % + PHA 6 % besonders schonend
💫 Gegen Pickelchen, Erdbeerhaut und eingewachsene Haare
💕 Befreit Poren und Haarfollikel von Bakterien und Hautzellen

SOS Skin-Pflegeöl:
💙 Für den ganzen Körper – auch den Intimbereich
💖 Ideal bei gereizter, gestresster und trockener Haut
🛁 After-Shave nach der Rasur
💧 Für besonders sensible Haut geeignet
Smoothie:
- Tiger grass: Stimulates collagen formation, for better regeneration and wound healing of the skin. Counteracts scarring and stimulates cell growth.
- Jojoba oil: Anti-inflammatory, nourishing and relaxing. Antibacterial and anti-allergenic. Super for all skin types.
- Vitamin E
For more moisture and increased resistance of the skin. Anti-inflammatory, nourishing, and soothing.

OCTYLDODECYL OLEATE, OCTYLDODECYL STEAROYL STEARATE, BRASSICA CAMPESTRIS/ALEURITES FORDII OIL COPOLYMER, SIMMONDSIA CHINENSIS SEED OIL*, HELIANTHUS ANNUUS SEED OIL*, POLYHYDROXYSTEARIC ACID, OCTYLDODECANOL, TRIHYDROXYSTEARIN, HELIANTHUS ANNUUS HYBRID OIL*, LINOLEIC ACID, TOCOPHEROL, SALVIA TRILOBA LEAF EXTRACT*, CENTELLA ASIATICA EXTRACT*, PALMITIC ACID, STEARIC ACID, LINOLENIC ACID
*organic farming

Peeling Solution:
- With aloe vera: itch-reducing, cooling, anti-inflammatory and moisturizing.
- Licorice root extract: antioxidant, soothes skin irritations, reduces itching, and promotes wound healing, especially suitable for the care of inflamed and irritated skin
- Oat extract: has an anti-inflammatory, anti-irritant, and anti-itching effect, supports the skin's water-binding powers and soothes - especially suitable for sensitive skin
- Hyaluronic acid: moisture retaining and hydrating, improves wound healing

AQUA; GLUCONOLACTONE; GLYCERIN; PENTYLENE GLYCOL; CITRIC ACID; TARTARIC ACID; LACTIC ACID; GLYCYRRHIZA GLABRA ROOT EXTRACT; SODIUM HYALURONATE; AVENA SATIVA KERNEL EXTRACT; ALOE BARBADENSIS LEAF JUICE POWDER*; BENZYL ALCOHOL; SODIUM HYDROXIDE
*organic farming

SOS Skin Care Oil:
🫐 With Ashwagandha: Anti-oxidant, anti-bacterial and anti-inflammatory.
🍋 With vitamin E: For increased resistance of the skin, counteracts inflammation.
🌱 With aloe vera: Anti-itching, cooling, anti-inflammatory and moisturizing
🥥 With high-quality oils: almond oil, jojoba oil, and coconut oil

PRUNUS AMYGDALUS DULCIS OIL*; HELIANTHUS ANNUUS SEED OIL*; SIMMONDSIA CHINENSIS SEED OIL*; COCOS NUCIFERA OIL*; WITHANIA SOMNIFERA ROOT EXTRACT; BISABOLOL; SALVIA TRILOBA LEAF EXTRACT*; ALOE BARBADENSIS LEAF EXTRACT*; ROSMARINUS OFFICINALIS LEAF EXTRACT; TOCOPHEROL
*organic farming
🔥 25% sparen 🔥 Auf das komplette nevernot Sortiment
Code: ENDLICH25
Nur das Beste für dich
100 % natürlich und maximal effektiv
Bereiche, wie die Intimzone, der Po oder sogar der Rücken werden von herkömmlichen Kosmetikfirmen vernachlässigt:
Die SOS Skin Care Linie kommt da zum Einsatz, wo andere Brands keine Produkte und Lösungen mehr anbieten. Gerade an diesen Körperstellen leiden viele Menschen unter Hautunreinheiten, gereizter oder trockener Haut, (Rasier-)Pickeln und Co. Die Haut- und Intimpflegelinie SOS Skin Care sorgt dafür, dass du dich wohl in und mit deiner Haut fühlen kannst – egal, in welcher Situation.
Die Formulierungen der beiden Produkte basiert zu 100 % auf natürlichen Inhaltsstoffen, ohne dabei an Effektivität einbüßen zu müssen.
Jasmins secret against sore thighs
DEr Smoothie
Who doesn't know it? As soon as we start to sweat a little, we chafe our thighs or arms. The Anti-Chafing Gel is the solution for your perfect summer without friction between your legs.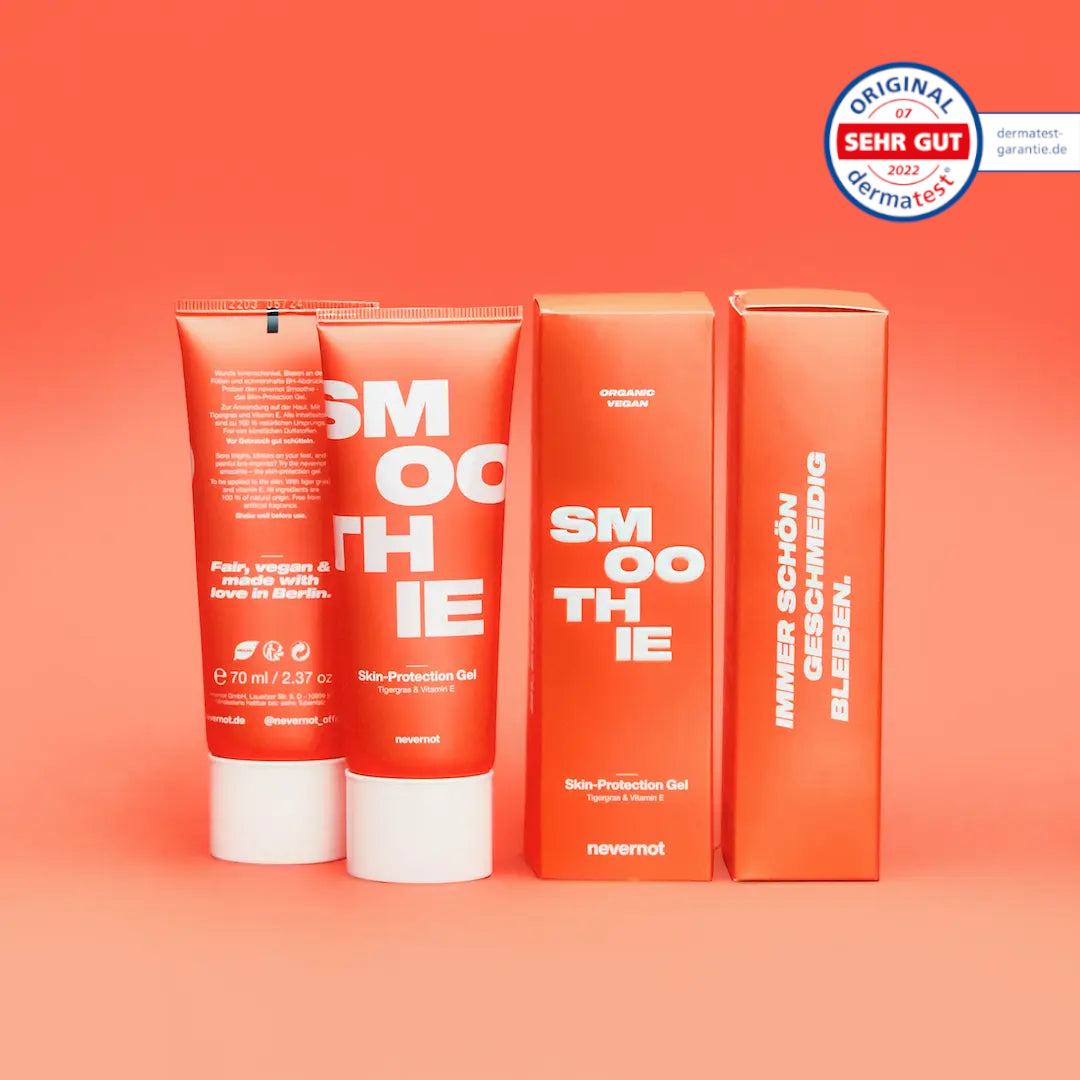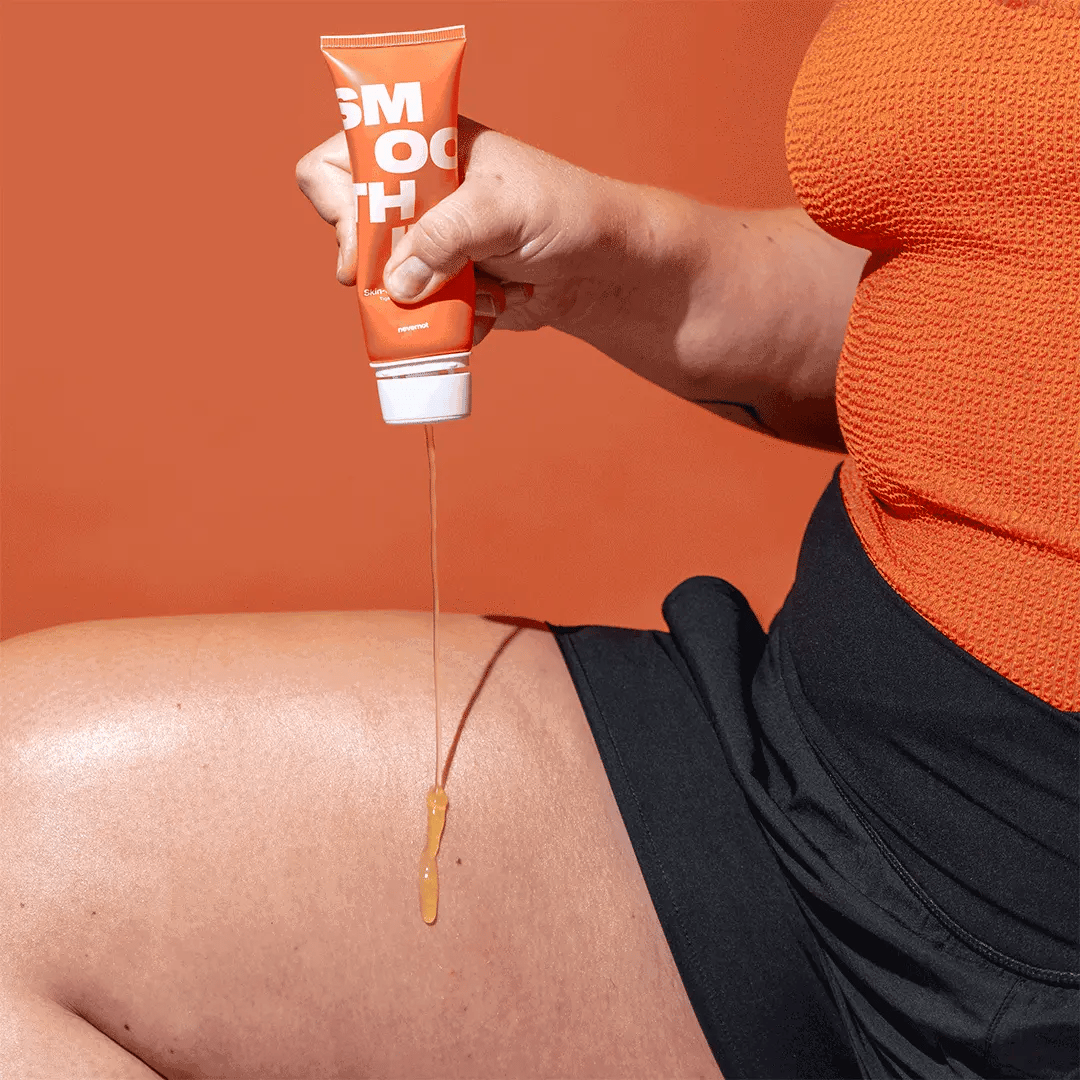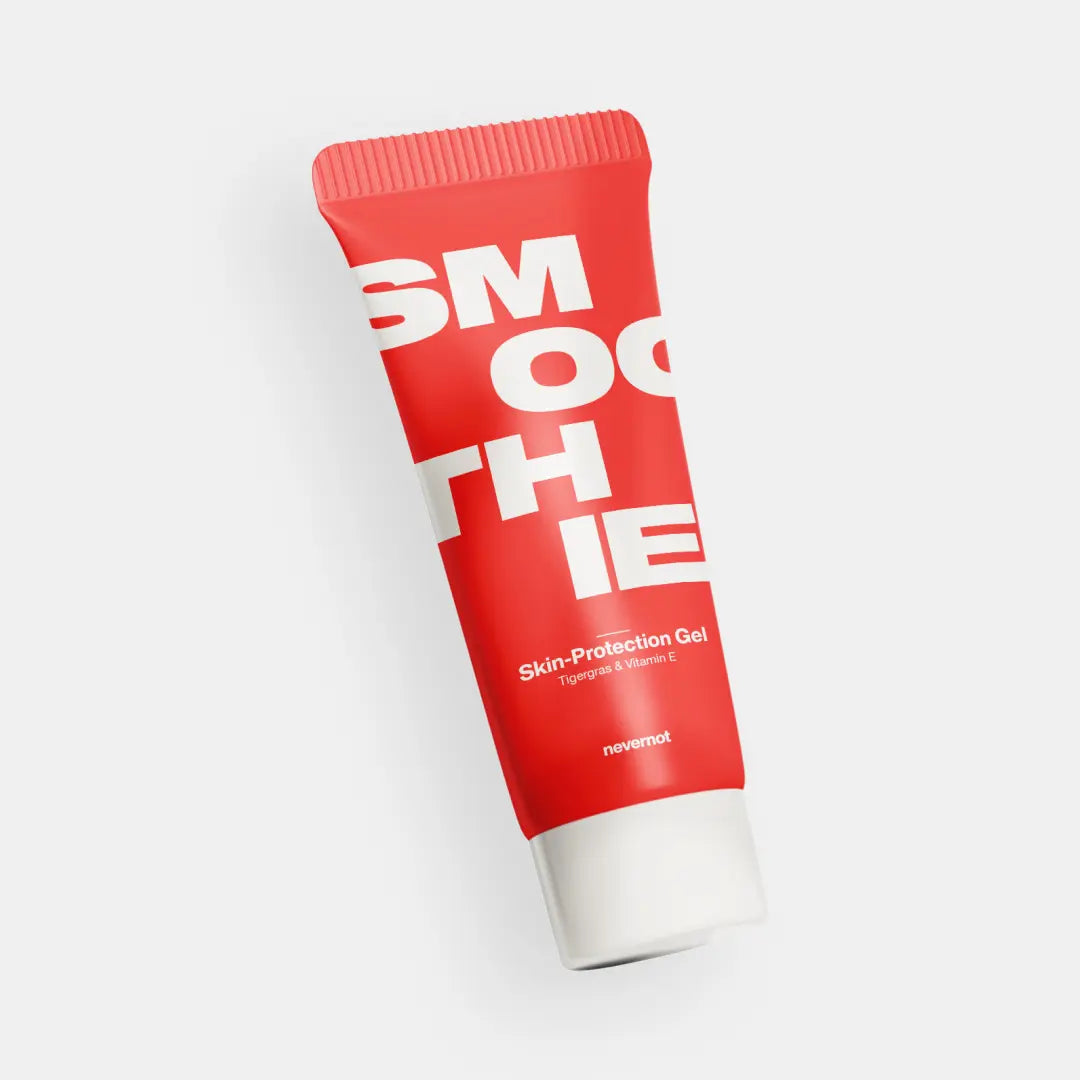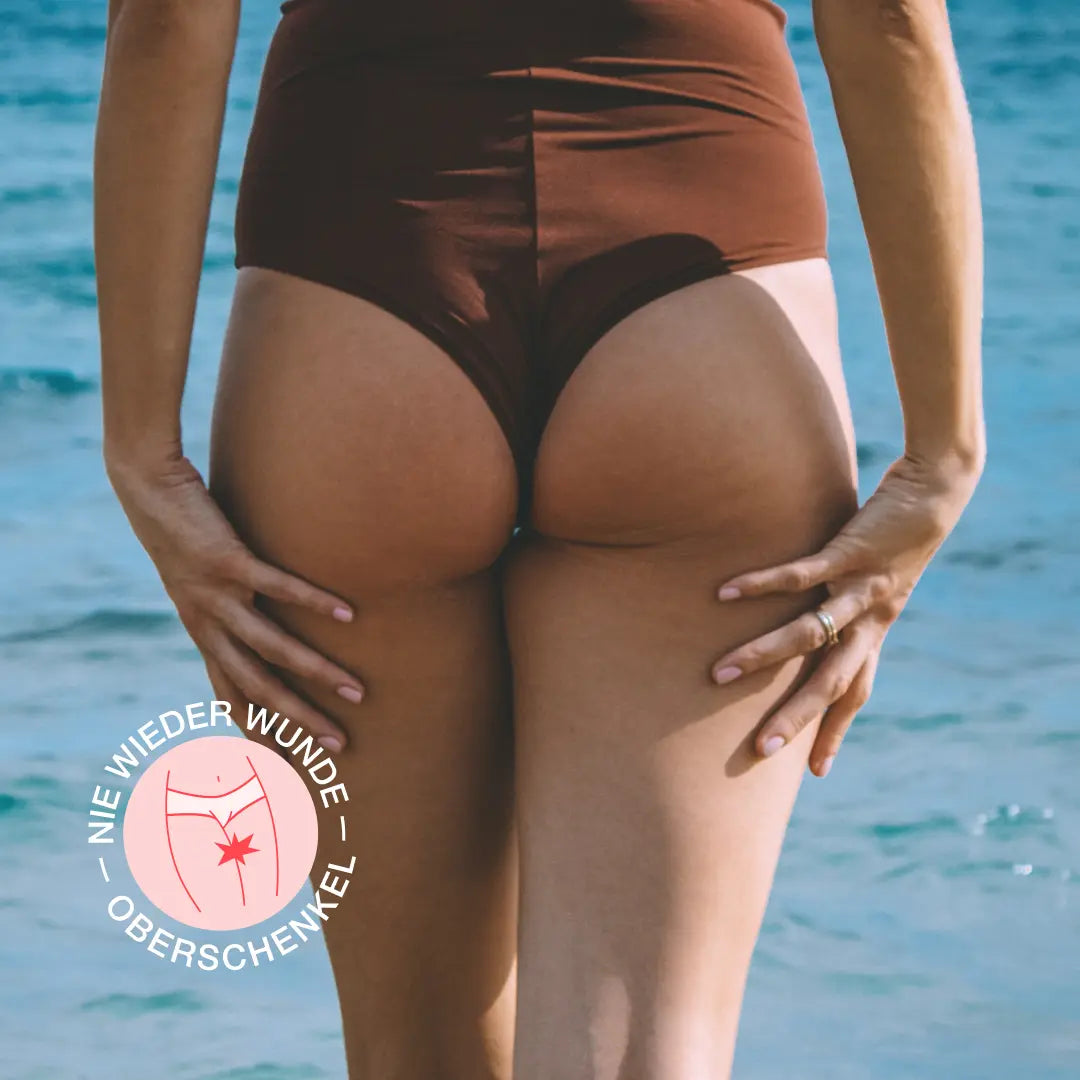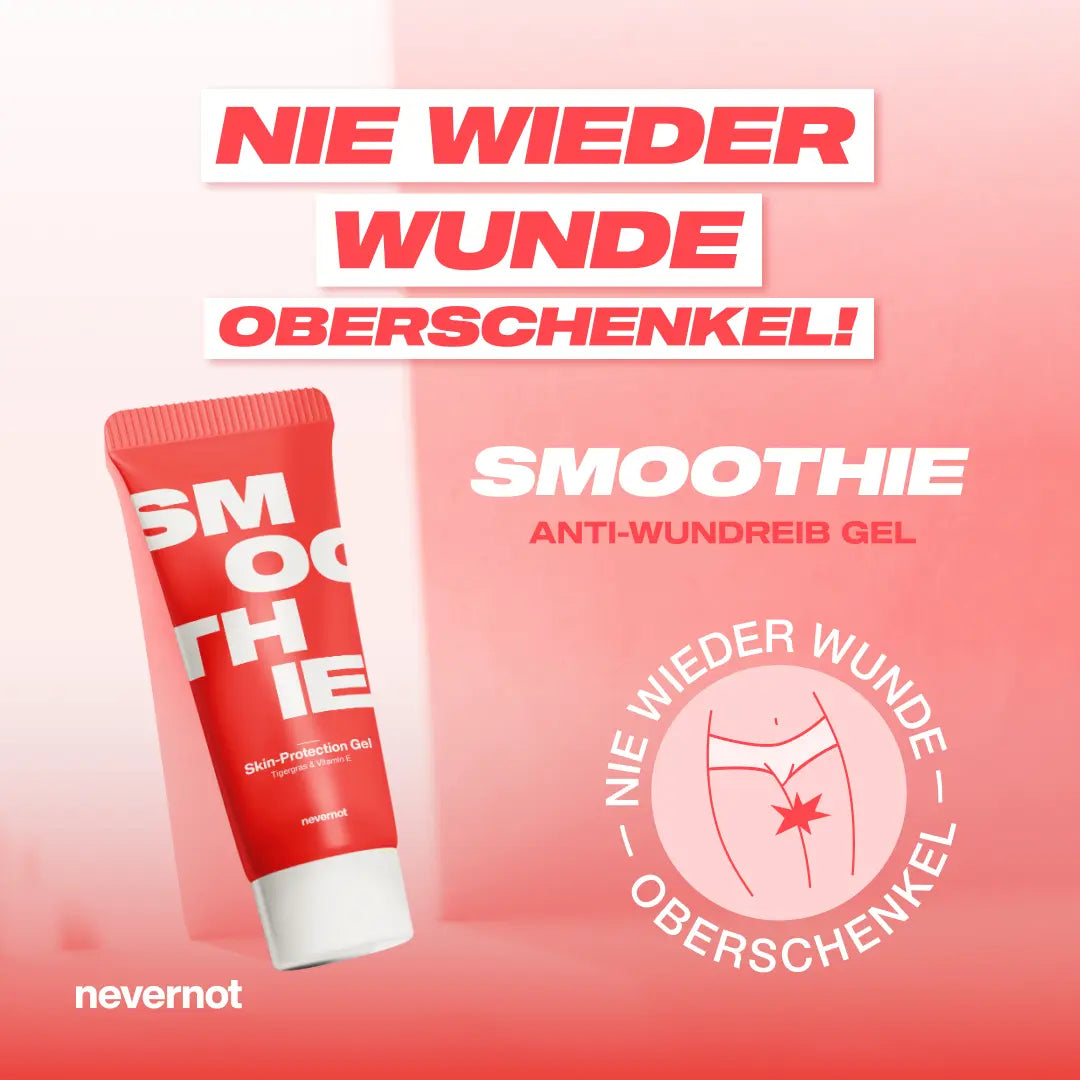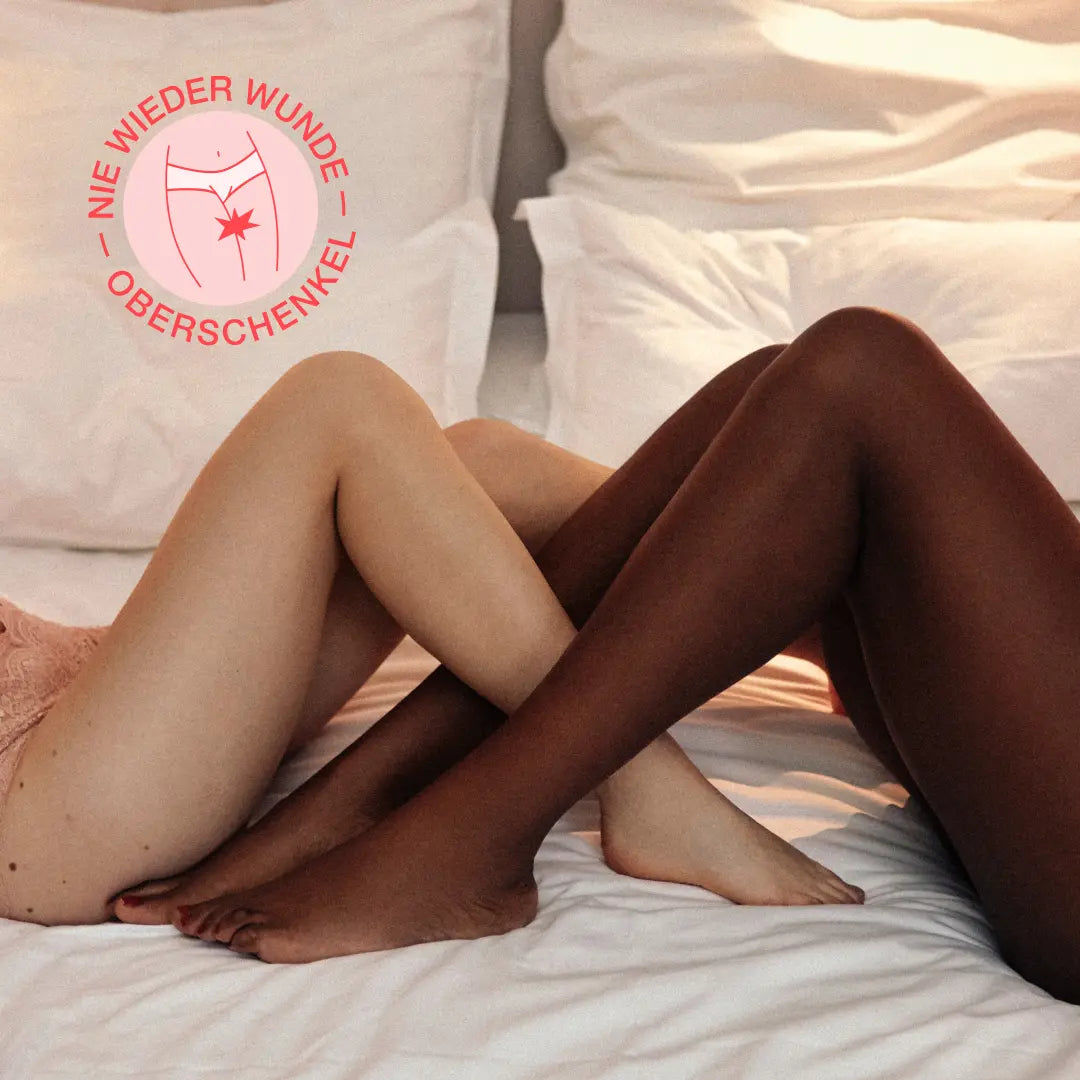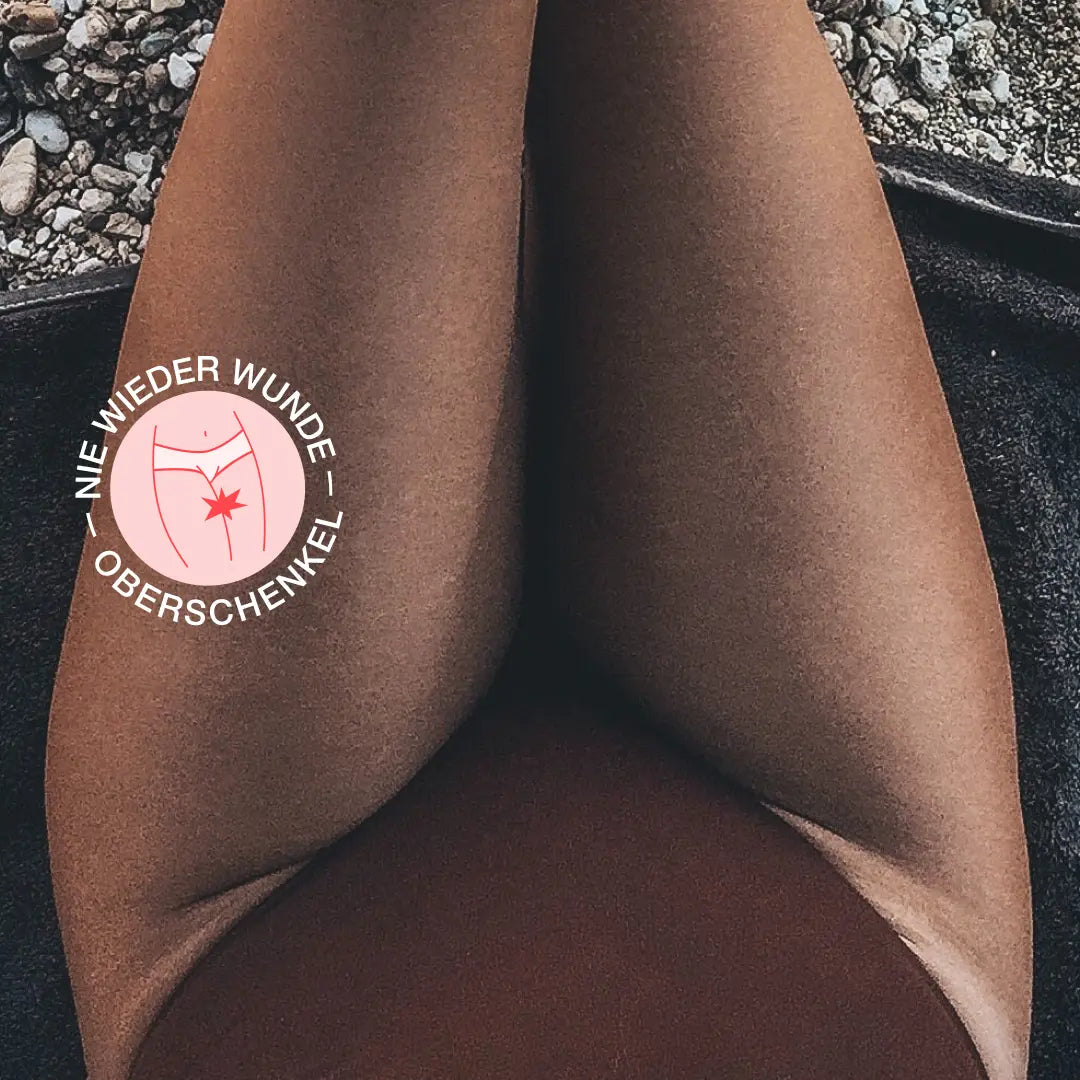 €26,00
Unit price
€37,14
per
100 ml
incl. VAT plus shipping costs
Hello Smoothie and Goodbye sore inner thighs, blistered feet, and painful bra marks. This skin protection gel forms a long-lasting, invisible cover film that protects you and your skin from friction and irritation since everyone has it and nobody talks about it!
Guaranteed to be smoother than your pick-up lines!
💯% natural ingredients, 0% silicone!
🐅 with tiger grass: antibacterial, calming and regenerative

🍋 with vitamin E: for increased skin resistance, counteracts inflammation
🌿 with jojoba oil: nourishing, protective and smoothing
Nur für kurze Zeit
🔥 25% sparen 🔥 Code: ENDLICH25